Colorado man captured by Nazis in WWII gets overdue POW medal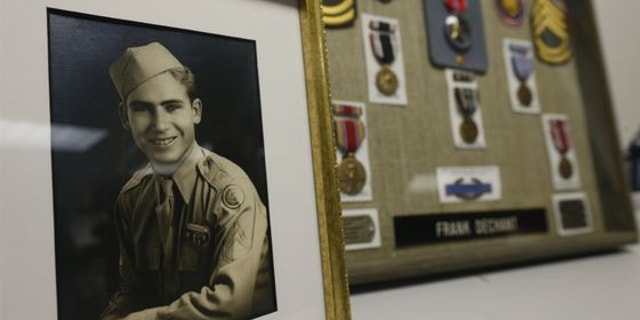 NEWYou can now listen to Fox News articles!
A Coloardo World War II veteran was surrounded by his four sons and several grandchildren and great grandchildren as he was awarded a Prisoner of War medal.
Frank Dechant, 91, was serving in an Army infantry unit when he was captured in 1944 by Nazi forces during the Battle of the Bulge, The Denver Post reported.
A cousin, Carol Dechant Young said he only recently began to open up about being captured by the Nazis. He was held in Stalag VIII-A, in what is now Poland, and was forced to march to an unknown location in Germany, according to the report.
Liberation came in April 1945 after a two-month, forced march ahead of the Soviet advance into Germany. He weighed less than 100 pounds at the time.
His wife, 85-year-old Edythe, told The Associated Press the experience took an emotional toll on her husband, who cried as relatives congratulated him Monday at a medal ceremony in the Lakewood offices of congressman Ed Perlmutter.
"Sgt. Dechant is a hero who courageously served our nation," Perlmutter said. "It's a special privilege to be with his family today to honor him and present him with this medal to recognize his sacrifice and service in defense of our freedom."
Dechant's son, Dave, told The Denver Post his father was "greatly humbled" by the award.
"He is a man who never sought the spotlight, so it was great for the family to see him recognized in this way," Dave Dechant told the newspaper.
Dechant had been awarded several other medals, including the Bronze Star, the Good Conduct Medal, the American Campaign Medal, the European-African-Middle Eastern Campaign Medal with three bronze service stars, the World War II Victory Medal and the Combat Infantryman Badge. The POW Medal was created in 1985.
The Associated Press contributed to this report.