College teaching assistant reprimanded for anti-gun 'Second Amendment zone' in classroom
A graduate teaching assistant has been criticized after trying to alienate and target students who conceal carry weapons in her classroom, labelling them as "absurd, antisocial, and frightening" and forcing them to stand in a "3X3 taped square."
"If you feel that it is somehow at all appropriate to bring a gun to class (hint: it is not…)," the controversial University of Utah teacher wrote in a section of her syllabus, then the students would be forced to stand in a "Second Amendment zone."
While the public school instructor acknowledged the students' right to bear arms, she claimed she has the "right to restrict elements of the Second Amendment in my own classroom" like a "free speech zone." The assistant said those students would be forced to stand in a "3x3 taped square on the floor in the very back of the classroom…This zone does not include a desk because desks are reserved for students who respect the personal and psychological safety of their classmates and instructor."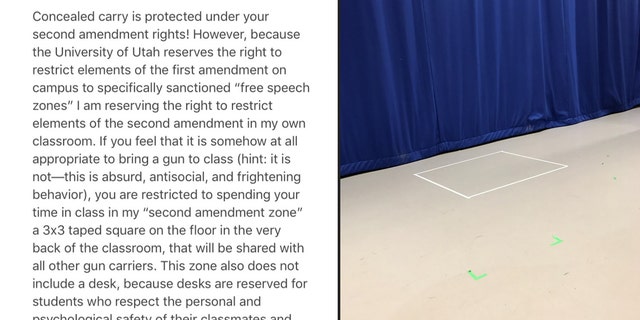 On Monday, Utah State Rep. Karianne Lisonbee – a Republican lawmaker who passed legislation to lower the age of concealed carry in the state to 18-years-old so young women could defend themselves against potential rapists or attackers – posted a copy of the syllabus on her Facebook page from two students in the class, telling Fox News, she did this after she reached to out the university.
"I am livid," Lisonbee wrote, "A University of Utah Professor doesn't understand the Bill of Rights and University policy on free speech – which is disturbing enough. But even more egregious, she is seeking to break state law and deprive students of their rights."
Lisonbee also said that "free speech zones" no longer exist in Utah after lawmakers passed a 2017 bill requiring all higher education institutions to drop any free speech limitations.
The university immediately responded and reprimanded the teaching assistant for violating campus policy and state law, which both allow students to conceal carry.
"The statement has been removed from the syllabus and students in the class have been alerted to the error," University of Utah spokesman, Chris Nelson, said Tuesday. "The graduate student instructor has apologized and has received additional training about the university's policies. The student instructor will not teach this semester and will instead have other assignments."
REPUBLICAN DELEGATE SUES UNIVERSITY OF WYOMING FOR CAMPUS GUN BAN
Lisonbee told Fox News she believes university officials "responded appropriately to protect the students" but is still concerned.
"It seems to me that this event highlights the growing undercurrent against free speech in the university setting - not through policy or law, but through the power differential of liberal professors versus students who want to learn all sides of the issues in an unbiased way without fear or repercussion," Lisonbee said.
"I just think, for her to say you don't have a desk, you don't have the same rights, like, that's just going against what our constitution was based on," Sarah Campbell, a sophomore at University of Utah told FOX 13.