College president robbed after allegedly attempting sex with two women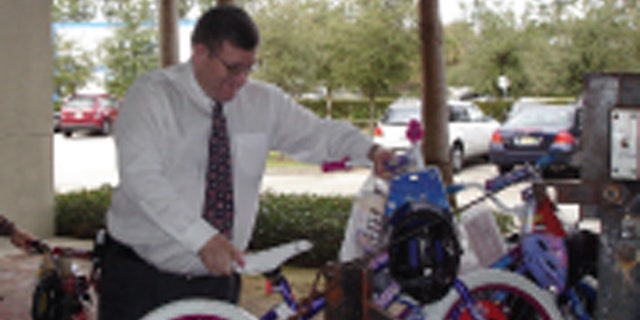 NEWYou can now listen to Fox News articles!
An alleged attempt at a "sexual rendezvous" with two women on Sunday night has cost a college president far more than he bargained for.
Keiser University President Matt McEnany was suspended from his job on Monday after Florida cops said he was beaten, robbed and carjacked while trying to pick up a pair of women for sex, the Orlando Sentinel reported.
McEnany, who is president of Keiser's Daytona Beach campus, told a 911 dispatcher he was only trying to give "two supposedly friends" a ride from their "grandmothers' houses," according to the Daytona Beach News-Journal.
"As a matter of fact, you could call it a sexual rendezvous"
"I pulled up here and I got out of the car and some black guy jumps me," McEnany told the dispatcher. "He throws me down to the ground and starts kicking me and the two girls and the guy get in to my car and take off with it, my wallet, everything."
McEnany said he had $100 in his wallet "to pay a bill." His 2011 Toyota Venza was later found abandoned, but police have not yet located the man who allegedly beat him or the two women, who have been identified simply as "Luscious" and "Brittany."
Despite McEnany's assertion that he was merely planning to give the women a lift, Daytona Beach Police Chief Mike Chitwood said the 60-year-old college president "had every intention of having a rendezvous with these women."
"As a matter of fact, you could call it a sexual rendezvous."
McEnany hasn't been charged with a crime.