College degree gender gap widens with younger Gen Xers, study finds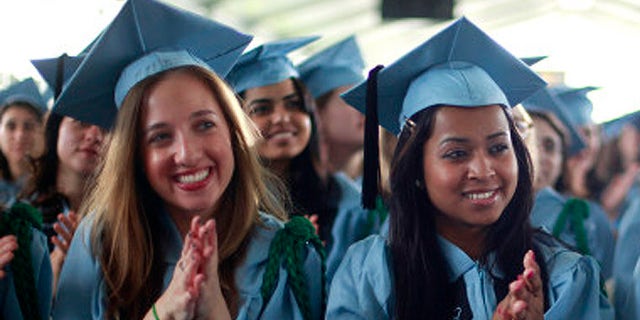 There's a growing gender gap when it comes to the youngest members of Generation X and college.
A federal survey of about 9,000 young men and women born during the years 1980 to 1984 shows a big disparity when it comes to higher education, with women a third more likely to have received a bachelor's degree by age 27. While it has long been known that women are outpacing men when it comes to pursuing higher education, the extensive study by the Bureau of Labor Statistics highlighted several numbers that show the trend is accelerating.
"This is really an important phenomenon that hasn't happened overnight," said Ohio State University sociologist Claudia Buchmann, who last year co-authored a book "The Rise of Women" that sought to answer why more women go to college than men.
At 27 years of age, 32 percent of women had received a bachelor's degree, compared to 24 percent of men, and by the same age, some 70 percent of women had at least attended some college, compared to 61 percent of men.
[pullquote]
Digging deeper into the numbers, the survey found that once students enroll in college, women are more likely to don a cap and gown. Of the 70 percent of women who started college, 46 percent completed their bachelor's degree by age 27. In comparison, of the 61 percent of men who started college, just 39 percent had completed their bachelor's degree.
As part of the National Longitudinal Survey of Youth 1997, researchers for the Bureau of Labor Statistics have been tracking the 9,000 respondents for years. They were ages 12 to 17 when first interviewed in 1997, and ages 26 to 32 when interviewed for the 15th time in 2011-12.
Buchmann told FoxNews.com that as society has changed, the opportunities for women have changed and expanded. That includes the opportunity to go to college and get a degree. At the same time the number of men who have gotten college degrees has not changed, she said.
The so-called Generation X includes Americans born between 1965 and 1984, but the survey focused only on the years from 1980-84.