Coast Guard rescues brothers clinging to light after boat sinks during Tropical Storm Emily
Two brothers were saved by the Coast Guard after their boat sank in the Tampa Bay in the midst of Tropical Storm Emily on Monday.
The Coast Guard said in a news release that 911 dispatchers got a call just before 10 a.m. about two men in the water clinging to a navigation light in the Tampa Bay shipping channel.
The brothers, identified by the Coast Guard as Tung Le, 47, and Thanh Le, 41, said they were fishing aboard their 17-foot boat in the bay when their engine died and the boat began taking on water. They said they went fishing because they believed the worst of the storm had passed.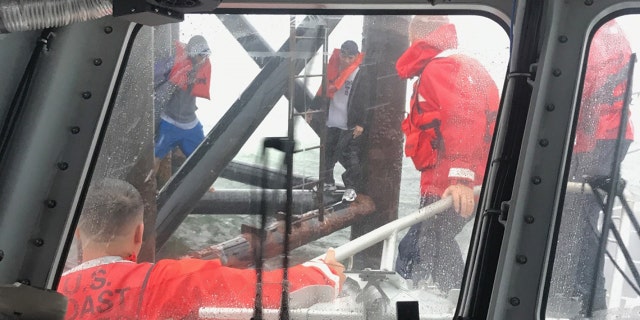 While the brothers worked on the inoperable pump, their boat drifted and struck the navigation light.
"It was dying down when we were out there and finally everything started going wrong," Thanh Le said. "The waves started hitting while we were trying to fix the bilge in the back and when we turned around we were drifting out."
After tying their boat to the range light, the brothers were forced to cling to the navigation aid and call for help when the boat sank.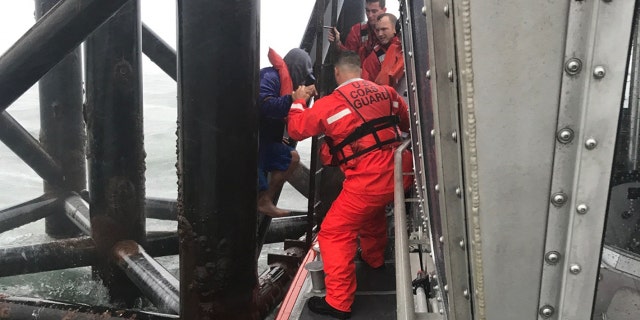 The Coast Guard was able to get to the scene within 30 minutes of receiving the 911 call, and rescued the brothers.
"They were extremely relieved when they saw us down there, waving their hands and everything," Petty Officer 2nd Class Alejandro Diaz, a crewmember aboard the rescue boat, told FOX13.
Tropical Storm Emily formed quickly early Monday and swept through the Tampa Bay Area with strong wind gusts and heavy rain, FOX13 reported.
The men thought the wind and rain were dying down while they were at sea, but Diaz said he's learned from eight years with the Coast Guard you can never underestimate a storm.
"It's imperative that every mariner boater check their local weather forecast prior to getting out there," he said, "and not only that, but do a thorough check on your engines as well, and all your safety gear."