Clerk gets probation in unarmed teen's death during heist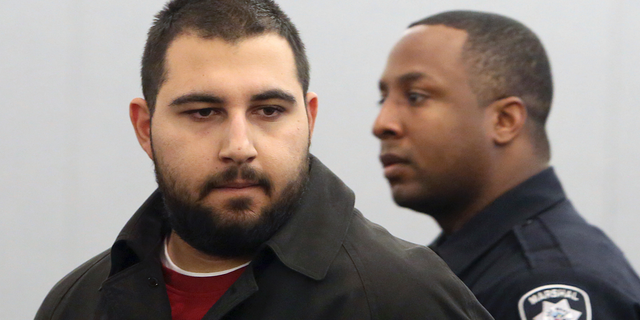 LAS VEGAS – A Las Vegas smoke shop clerk who fatally shot an unarmed 13-year-old in an apparent grab-and-run theft more than a year ago has been sentenced to probation.
Raad Sunna choked back tears Thursday as he said he would pay for the "tragic loss" for the rest of his life, the Las Vegas Review-Journal reported .
"I wish no one the pain and suffering of a day in the life of my shoes, the nights I can't sleep, the recurring memories of that night, the pain in my body, heart and soul that I can't escape," he said at his sentencing hearing. "I don't wish this upon my worst enemy."
He was originally charged with murder but pleaded guilty in October 2017 to one misdemeanor count of aiming a firearm at a person.
Surveillance video showed 13-year-old Fabriccio Patti apparently running away when he was shot seven times in December 2016.
Sunna said he feared for his life when the teenager ran in wearing a mask and hoodie with two friends.
"He responded to this situation exactly like I would respectfully say most of the people in this courtroom would have," defense attorney Dominic Gentile said.
But prosecutors said he was too quick to fire his gun.
"He didn't have to shoot. If he had waited just even a second more, this young man would still be alive," Chief Deputy District Attorney Giancarlo Pesci said.
The boy's father, Martin Patti, remembered a boy who liked skateboarding and valued loyal friendship.
"My son made a very serious mistake, and he paid for that with his life," Patti said. "But I also believe that the defendant made a mistake, and thank God for him, he's still alive."
In addition to probation, Sunna was ordered to perform community service and to pay $3,000 in restitution.