Classroom sex abuse case to cost more than $100 million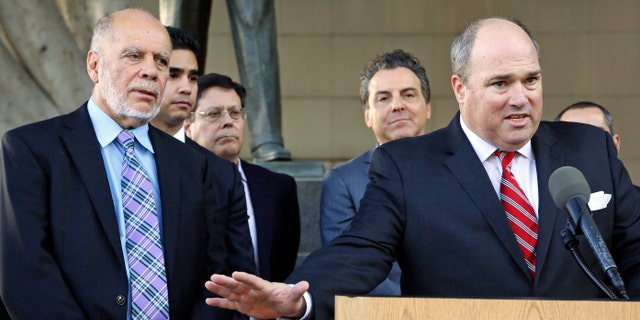 LOS ANGELES – Once lawyers began digging into Mark Berndt's past, they discovered a three-decade pattern of odd behavior and complaints about the teacher that school administrators either missed or ignored.
Both students and teachers had complained about the popular elementary school teacher who was eventually convicted of committing numerous lewd acts on his students.
On Friday, the Los Angeles Unified School District announced it agreed to pay nearly $140 million to put an end to litigation involving the teacher, who had been accused of blindfolding students and feeding them his semen on spoons and cookies.
The settlement involving 81 students is believed to be the largest ever for a school sex abuse case, according to victims' lawyers, and increases the public price of the scandal to $170 million when combined with 65 cases settled earlier for $30 million.
The deal ends a legal saga that began when the Miramonte Elementary School teacher was arrested in 2012 on allegations of committing lewd acts.
"There was a volcano of evidence," attorney John Manly said. "The district settled this case because there as a gun pointed at their head, a legal gun, and it was about to go off and the public was going to find out everything."
Lawyers said none of it would have come to light if it hadn't been for a gutsy pharmacy photo clerk who called police when she discovered the troubling photos and learned Berndt had been processing similar pictures there since 2005.
The 19-year-old woman had only been on the job a month and her supervisors told her not to call police. She did it anyway.
"That's the hero," Manly said. "If she hadn't made that call we wouldn't be here and he'd still be teaching."
Berndt's arrest led to an uproar at the school, where most students come from poor Hispanic homes. Some families stood by the popular teacher, while others were outraged that they hadn't been notified sooner of the investigation.
The district removed all 130 staff members from the school and placed them at an unopened empty school during a lengthy investigation.
Many parents had been hesitant to complain about Berndt or cooperate with police because they feared deportation.
The case led to an overhaul of how the nation's second-largest school district handles allegations of sexual abuse, including notifying parents of allegations of wrongdoing by staff within three days.
"Our goal from the outset of these appalling revelations has been to spare the Miramonte community the anguish of a protracted trial, while at the same time being mindful of the financial consequences stemming from settlements," district Superintendent Ramon C. Cortines said in a statement. "We believe we struck a balance between those objectives."
Berndt, 63, is serving 25 years in prison after pleading no contest to 23 counts of lewd conduct. He avoided being fired after his arrest and retired from teaching with his pension.
Lawyers for the children said they managed to unearth a dozen incidents involving Berndt between 1983 and 2009 and found that no action was taken to remove him from teaching.
Among the findings:
— Two teachers reported Berndt was exposing himself to students in the mid-1990s.
— Several girls had complained in the early 1990s that Berndt was masturbating in class, but the allegations were dismissed and the girls were accused of lying.
— The Sheriff's Department investigated Berndt in 1994 but prosecutors declined to bring charges for lack of evidence.
"There were so many things along the way that were signs," Manly said, including photographs a parent brought to the head of the school in 2008 of a child eating a cookie covered in white slime.
"This is wrong, do something about it or I'm going to call the police," the parent demanded, Manly said. "The principal said, 'Don't call the police.'"
The district said Berndt went to lengths to hide his behavior and he was pulled from the classroom as soon as it learned of the allegations. Police found close to 800 photos he had taken over the years.
"When you see one after the other it puts you on notice something is amiss," said Dave Holmquist, general counsel for the district. "It's safe to say that if these actions (occurred) today, we'd behave differently."
A retired judge has been appointed to evaluate each claim made in the lawsuit and determine how much money each child gets based on the nature and duration of the abuse and its impact, which runs the gamut from kids doing well to being suicidal.
Attorney Brian Claypool said one of his clients, a little girl, told her therapist that she wasn't sure she wanted to live anymore.
"Her mom told the counselor that she envisioned herself walking to the edge of a pier and then jumping into the ocean," he said. "That's an example of the depth of grief these families have suffered."