Cities grappling with safety, legal concerns as electric scooter-sharing craze sweeps country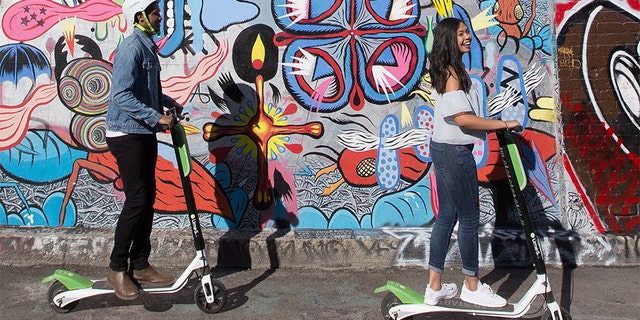 The "summer of the scooter" is in full force across the United States – and it's likely heading to a city hall near you.
What was once one of the most popular children's toys around the turn of the millennium is now back as a beefed-up and increasingly popular ride-sharing device, but officials coast to coast are struggling to keep pace as electric scooter companies and their legions of riders are outpacing efforts to regulate them.
"If you imagine just walking on the sidewalk and somebody on a scooter at 15 miles an hour hits you, it can be fatal," Beverly Hills councilmember Lili Bosse said Tuesday night after the California city voted to ban the devices for six months, following similar edicts and warnings in places like West Hollywood, Seattle, Saint Paul, Nashville, Boston and Miami.
For companies rolling out the scooters, like Lime -- the sales pitch is simple: it says it's "empowering residents with a greener, more efficient, and affordable transportation option that also improves urban sustainability."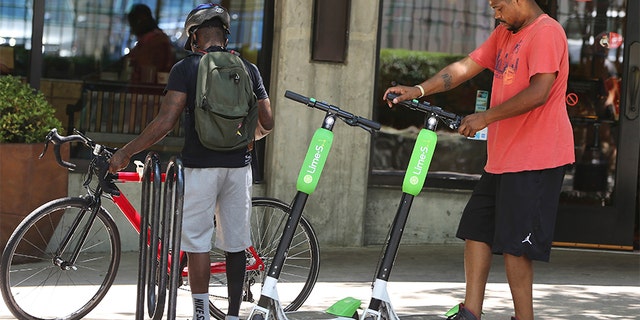 To rent and ride a Lime scooter, or one from a competitor such as Bird, users download a smartphone app, use GPS to find the scooters and pay $1 to get moving. Each additional minute costs 15 cents and when the ride is over, the scooters can simply be left at the destination. The companies then pay locals to round them up each night and charge their batteries before dropping them off at designated sites the next morning.
"They're very popular and easy to use, cost effective, and they are really helpful for trips that are too long to walk but too short for a car or taxi," Sarah Kaufman, an assistant director for technology programming at the NYU Rudin Center for Transportation, told Fox News.
But some police departments and city governments, citing safety and legal issues, are looking to pump the brakes on the electric scooter ride-sharing craze.
Beverly Hills says it's looking to meet with scooter companies to "establish clear guidelines for possible future use of the devices within the City," but added that their ban was put into effect out of "concern for public safety.
"Police have responded to several injury-involved vehicle collisions involving motorized scooters," the city said in a statement Tuesday. "Police have also removed scooters from sidewalks and streets that obstructed the normal movement of traffic and created a hazard."
Videos recently obtained by FOX11 showed dozens of teens racing Lime scooters inside a mall in Los Angeles' Century City neighborhood and on its sidewalks before leaving them scattered everywhere.
Other images circulating on social media show Bird scooters being left in walking paths, presenting a possible hazard that people can trip over.
"Baltimore has no special rules governing ride-share electric scooters," the Baltimore Sun's editorial board lamented in a column published Tuesday, labeling it the city's latest "invasive species.
"It had simply never occurred to the City Council or the city's transportation department to even explore such a thing. So right now, there are no laws or regulations, city or state, that prevent anyone from riding a powered scooter in the middle of a sidewalk. And plenty do," it added.
In early July, officials in Saint Paul asked Bird to remove their scooters "until a framework can be created for their deployment," which they hope to achieve by next weekend.
"The company placed a number of the scooters in Saint Paul within the Right-of-Way in violation of a city ordinance which requires a permit for any use of the public space," the mayor's office said.
Other cities like Santa Monica, Calif., have adopted a pilot program for permits where electric scooter companies will have to pay a yearly fee of $20,000 and $130 per device to operate there, according to the Los Angeles Times.
The program is reported to go into effect on Sept. 17 – and companies who obtain permits will have to set up a daily hotline to field complaints and distribute materials educating users on how to ride the scooters safely, it added.
On their websites, Lime and Bird already offer tips and guidelines for riders, such as "always follow traffic laws", "no stunt riding" and "do not block pedestrian walkway."
"We're all in this together, so let's be good neighbors and look out for one another," it says on Bird's website under its 'safety' section.
But it's not clear how well these recommendations can be enforced.
When Fox News asked Lime how it makes sure that riders wear helmets and have driver's licenses, amongst other guidelines it puts out, a spokesperson highlighted two instructional safety videos the company posted earlier this year on its YouTube channel – one of which was inspired by The Matrix film series.
Another spokesperson said "we have messages in our app and on the scooters that remind riders to follow all local helmet and sidewalk laws" and "in some areas, we have partnered with city governments and law enforcement on events and programs to educate riders as well."
Both companies did say to Fox News though that they hope to work with the city of Beverly Hills to get their scooters back on the streets there, and Lime's director of strategic development, Sam Dreiman, noted that "Beverly Hills has a history of embracing innovation, from self-driving cars to fiber optic technology."
Yet he added that "last night, the City broke from this tradition by slowing down the adoption of innovative mobility solutions that would lead to fewer cars on the road, less traffic congestion, and improved air quality."
Lime, which also offers bikes as part of its transportation services, claims to have 35,000 of its products available in more than 75 markets around the U.S. and Europe, achieving more than 6 million rides.
The San Mateo-based company is backed by an investment portfolio of hundreds of millions of dollars that includes sizeable contributions from tech companies like Google and Uber.
"Many of these companies launched in the fall of 2017," Kaufman told Fox News. "A lot of people are calling this summer 'the summer of the scooter'. The scooter companies are launching full force in many U.S. [cities] and some internationally as well."
Kaufman said the NYU Rudin Center for Transportation will release a report in the coming weeks about the general state of scooter sharing. But for now, she says, expect the companies to keep expanding into more cities – and into the agendas of legislators trying to regulate one of the newest trends in transportation.
"I think we can start to see scooters in many denser cities and the downtowns of smaller cities as well," she told Fox News.