Cities around the world seek to emulate NYC's elevated park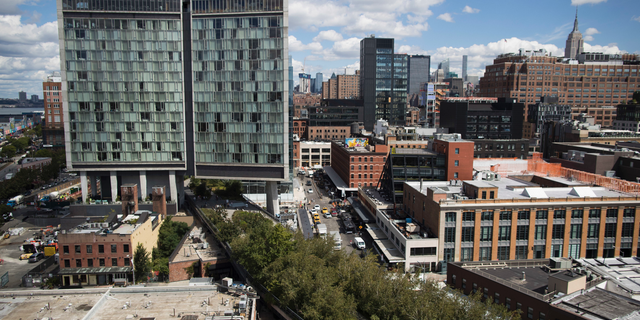 NEWYou can now listen to Fox News articles!
ALBANY, N.Y. – The success of New York City's elevated park, the High Line, has inspired a slew of projects across the United States and internationally that repurpose rusting ribbons of steel and concrete as green space in hopes of rejuvenating neighborhoods or reclaiming overbuilt riverfronts.
Philadelphia, Chicago, Miami, London and New York's capital of Albany are among the cities with High Line-style projects completed or in the planning stages. All seek to capture at least some of the popularity of the 23-block-long railroad viaduct in lower Manhattan planted with trees, shrubs and flowers that attracts more than five million visitors a year and has spurred $4 billion in surrounding development since it opened in 2009.
"Communities all over the country are recycling all kinds of abandoned or unneeded infrastructure," said Ed McMahon, a senior fellow at the Urban Land Institute in Washington, D.C. "We're recycling abandoned rail lines, canals, utility corridors, parking lots, roofs of buildings, airports — even decking over freeways."
The first section of a park on the old Reading Viaduct in Philadelphia opens next month. Chicago's elevated Bloomingdale Trail on an abandoned rail line opened in 2015. In Miami, the Underline will transform land beneath the Metrorail into a 10-mile-long linear park designed by James Cormer Field Operations, which developed Manhattan's High Line. London has the Camden Highline, a planned park on a half-mile strip of disused railway. In Washington, D.C., an old freeway bridge is being transformed into a park connecting Capitol Hill with communities east of the Anacostia River.
And in Albany, the proposed Skyway seeks to transform a half-mile-long unneeded highway ramp into a landscaped promenade linking downtown to the Hudson River waterfront park.
"We'll be looking to the High Line for some design ideas, landscaping lessons learned and ways to fundraise to support programming," said Sarah Reginelli, president of Capitalize Albany, a nonprofit economic development organization. "But it's a very different project, not only in size and scope, but also because it serves the critical function of connecting downtown with the riverfront."
Albany residents and officials have long lamented the inaccessibility of the Hudson River waterfront to the city's downtown. Standing as a major barrier is multi-laned Interstate 787, which borders the river and carries 80,000 cars and trucks a day.
A recent Albany waterfront corridor study considered several solutions including burying the highway or decking over it. Several cities have done just that. One of the most successful is Dallas' 5-acre Klyde Warren Park built over the Woodall Rogers Freeway, opened in 2012. It connects the flourishing downtown arts district to other neighborhoods.
"This project isn't a big-ticket item like that, but it's a solution to what's a very challenging issue for many cities," Reginelli said.
The Albany Skyway plans call for taking an existing highway ramp that has connections to the riverfront park and a downtown area in the midst of redevelopment, closing it to traffic and landscaping it as a half-mile-long aerial promenade with trees, gardens, seating areas and space for art installations, food vendors and events ranging from farmers markets to music festivals. City officials see it as a destination in itself as well as a route for walkers and bicyclists between downtown and the network of riverfront trails.
Gov. Andrew Cuomo gave a boost to the project in March in announcing a $3.1 million state grant. The money is for final engineering and initial construction, slated to begin by late 2019 and be finished in 2020. Total cost estimates range from $5 million to $12 million, depending on design.
"It's going to be a critical element for the city, a place people will want to come to," said Jonathan Brust, who lives nearby and looks forward to extending his daily walks to the riverfront. "But we also need to find ways for it to pay for itself, like renting space for pop-up events and farmers markets."