Cincinnati shooter had troubled past, including arrests and 'rambling' lawsuits against MSNBC: reports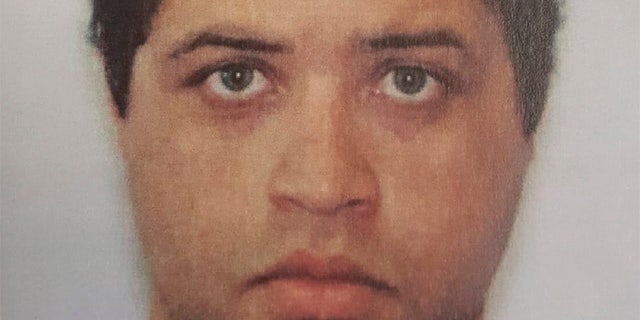 The Ohio man who shot dead three people Thursday in a Cincinnati office building had an arrest history in several states, often looked "pissed off" at his neighbors and twice filed lawsuits claiming MSNBC was spying on him, according to multiple reports shedding light on his apparent troubled past.
Omar Enrique Santa Perez, 29, burst into the lobby of the Fifth Third Bank headquarters in downtown Cincinnati Thursday morning and killed three people with a 9mm handgun that he had legally purchased, police say, before officers took him out.
The Cincinnati-area resident never worked for the company and had no ties to any of the other businesses housed in the 30-story building, according to the Associated Press. Police on Friday are working to determine why Santa Perez, who reportedly was dressed in a business suit and carrying a briefcase during the shooting spree, carried out the attack.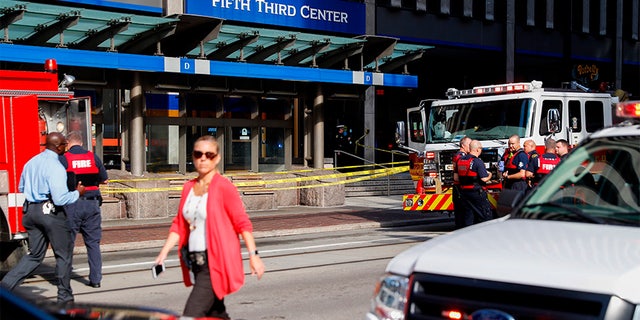 CINCINNATI BANK BUILDING SHOOTING LEAVES 3 DEAD, 2 INJURED; SUSPECT DEAD, POLICE SAY
But elsewhere around the United States, Santa Perez is no stranger to law enforcement.
Criminal records unearthed by news organizations show that he has been hit with numerous offenses in a string of southeast Florida cities ranging from Palm Beach to Coconut Creek, with charges ranging from marijuana possession to traffic violations. The earliest appears to date back to around 2010, when he was taken into custody in Broward County for disorderly conduct and resisting arrest, Fox 19 reported.
In 2014, Santa Perez was arrested and charged with trespassing in Greenville, South Carolina, after he refused to leave the property of a water sports company that had fired him, Fox Carolina reported.
A police write-up of the arrest viewed by the Cincinnati Enquirer said Santa Perez was lying in front of the business and was smoking a cigar when cops arrived, and then cried.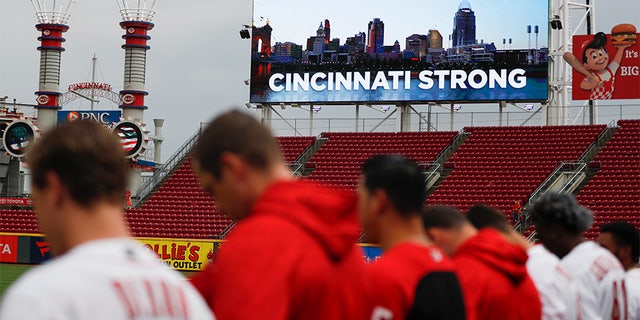 "The suspect appeared to be upset and disoriented. When I would ask the suspect questions but he would respond with strange answers," the report said, according to the newspaper. "The suspect mumbled something about the war and the economy, but for the most part talked about that he was upset that he was terminated."
The newspaper also reported that Santa Perez recorded a traffic violation in Cincinnati in 2015 for driving around with an expired license plate.
Santa Perez's neighbors at an apartment complex in North Bend, outside of Cincinnati, described him as a quiet man who kept to himself. A SWAT team combed his apartment Thursday afternoon but told Fox 19 that they found nothing.
Steve Conner, one of the residents there, said in an interview with the Cincinnati Enquirer that Santa Perez moved in around March but never returned his pleasantries, often "walking down the street, looking pissed off at everybody."
Another neighbor, Christina Fischer, said Santa Perez "kind of would hide when you'd come up the stairs.
"He didn't want anybody near him," she told the newspaper.
'ACTIVE SHOOTER' VIDEO GAME PROMPTS OUTRAGE IN WAKE OF MASS SHOOTINGS
Fischer said she believed a woman was living with the shooter until around a few weeks ago. Other residents said his car had broken down a few months ago and that he would sometimes walk three miles on foot to a nearby village in order to hop on a bus heading to Cincinnati.
Santa Perez also – twice – filed lawsuits claiming MSNBC was spying on him, according to reports.
In January this year, he went after NBC Universal and TD Ameritrade Holding Corporation, seeking $5.1 million in damages for emotional distress and "character assassination," WCPO reported.
In the first lawsuit, Santa Perez claimed his cell phone and computer were hacked and "in a matter of four weeks (in spring 2017), 'MSNBC' created a character, grandeur a persona, unmasked and assassinated the character through its slanderous commentaries."
After a county clerk dismissed the lawsuit with prejudice in June, he filed another one and said he was watching MSNBC when they began to start broadcasting information about him and intended to track him down, according to WCPO. Santa Perez reportedly added that TD Ameritrade was working in tandem with the news network to tap into his phone and electronics.
But in both cases, magistrate judges found the allegations "rambling, difficult to decipher and (bordering) on the delusional," WCPO reported, and searches of MSNBC's website on Friday morning returned no mentions of Santa Perez. Lawyers from both companies had been working to dismiss the lawsuit, according to the Cincinnati Enquirer.
Police told Fox 19 that Santa Perez was a lone shooter who suffered from mental health issues, yet to some, the attack came as a surprise.
Daniel Noel, who worked with Santa Perez for two years at a company that made oil shafts, told the Cincinnati Enquirer that Santa Perez occasionally bought him lunch and that despite being a little socially awkward, never showed signs of anger.
Elsewhere, Yudy Martinez Perez, his aunt, reportedly slumped to the floor Thursday at her home in Forest Park after learning that her nephew was the gunman. She said he was currently working but didn't know where.
"He was very quiet," Martinez told the newspaper. "I do not know why. I do not know why."