Cincinnati clears, sanitizes downtown homeless camp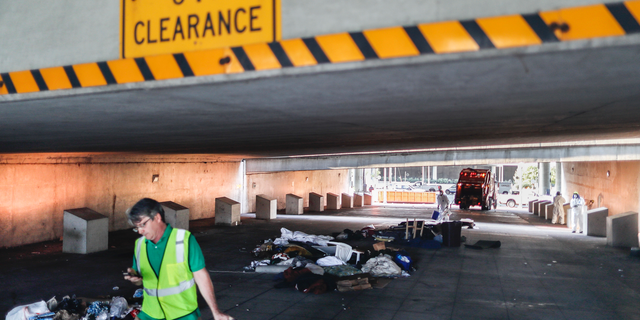 CINCINNATI – City officials early Wednesday cleared out a downtown Cincinnati homeless camp, and workers began cleaning it up in the latest development in a long-running debate on such encampments.
City workers began well before the posted 8 a.m. deadline for people to vacate the area, and none of the some 40 people had lingered. Police said they left without incident.
Most people living at the encampment had left for shelters and detox programs. A few were approved for permanent housing, while others joined a growing tent city along downtown sidewalks a few blocks away.
Workers with breathing masks and gloves loaded mattresses from the camp into garbage trucks and shoveled and raked up trash.
The cleanup efforts followed days of confusion over what to do about the encampment under an overpass near the stadium where the NFL's Cincinnati Bengals play.
Acting City Manager Patrick Duhaney issued a notice to vacate last week, but later extended the deadline to Wednesday morning. That prompted advocates for the homeless, city council members and the city manager's office to start a dialogue about long-term solutions.
But Duhaney said in statement Monday that the city didn't support relocating the Third Street camp to another location. Duhaney said he had met with camp leaders but didn't agree to change the eviction plan.
Brian Garry, a board member for the Maslow's Army advocate group, said the move was unfair and people hadn't had enough time.
"Just because a person is homeless, it doesn't strip them of their rights," Garry told The Cincinnati Enquirer .
___
Associated Press writer Angie Wang in Cincinnati contributed.