Chuck Yeager re-enacts sound barrier flight on its 65th anniversary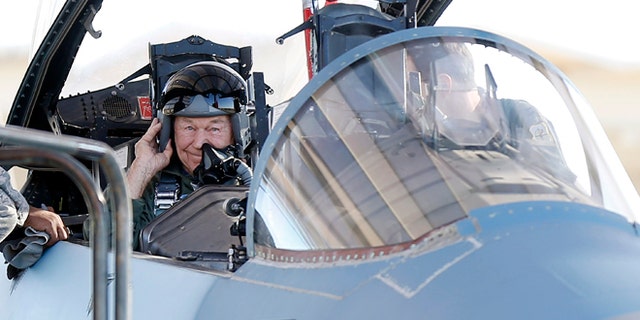 NEWYou can now listen to Fox News articles!
NELLIS AIR FORCE BASE, Nev. – Sixty-five years after becoming the first human to fly faster than the speed of sound, retired Air Force Brig. Gen. Chuck Yeager is still making noise.
This time the 89-year-old Yeager, who was featured in the movie "The Right Stuff," flew in the back seat Sunday of an F-15 Eagle instead of the experimental rocket plane, Bell X-1, he piloted on the historic flight.
[pullquote]
The F-15 took off from Nellis Air Force Base near Las Vegas and broke the sound barrier at more than 30,000 feet above California's Mojave Desert where Yeager achieved the feat on Oct. 14, 1947.
Asked by a young girl afterward if he was scared, Yeager joked, "Yeah, I was scared to death."
But the legendary pilot said he continues to fly all the time and it was just another flight to him.
The flight went smoothly, and Yeager flew the F-15 as it took off and landed, said Airman Timothy Young, a Nellis spokesman. The plane was piloted by Capt. David Vincent of the 65th Aggressor Squadron at Nellis.
The aircraft broke the sound barrier at 10:24 a.m. Sunday, exactly 65 years to the minute the then-Air Force test pilot made history. At the time, the F-15 was flying over Muroc Dry Lake in California where he accomplished the feat in 1947.
On that earlier flight, Yeager took off from the Air Force test center at Muroc Field, now Edwards Air Force Base, Calif.
Yeager told reporters on Sunday that he remains grateful for what his Air Force service allowed him to achieve. He has flown more than 350 kinds of planes around the world.
"It was a great honor to have him fly out of Nellis," Young said. "We pride ourselves on training fighter pilots and to have someone of his caliber here is such an honor."
Yeager's wife, Victoria, said he had been looking forward to re-enacting the historic flight.
"This is so cool. I'm excited," she told the Las Vegas Review-Journal. "He's in the back seat where the instructor pilot sits because he's the elder statesman."
On the anniversary of the historic flight last year, Yeager flew an F-16 to reach Mach 1, the speed of sound.