Christmas saved: Carrier families thank Trump, count blessings
The Bray kids are counting on Santa Claus comin' to town, and their parents, like more than 1,000 other Carrier employees whose jobs were saved by a dramatic deal negotiated by President-elect Donald Trump, are counting their blessings.
T.J. Bray, 32, whose job at an Indianapolis air conditioner factory was saved after Trump convinced company executives not to move operations to Monterrey, Mexico, is no longer dreading a dismal holiday.
"If you had told me in February this year would end on a good note, I would have told you you're bat crazy," the 14-year Carrier production associate told FoxNews.com. "We can all breathe a sigh of relief knowing we can go back to doing what we've been doing –doing the best job we can do and going home to take care of our families."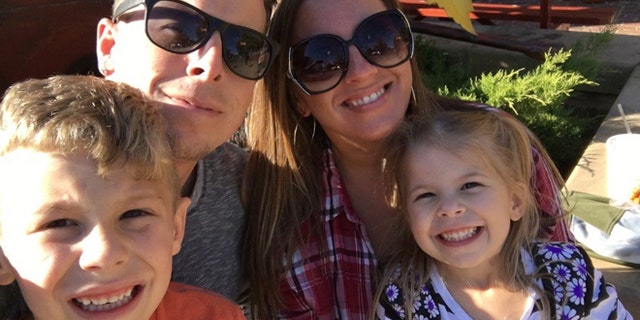 O'REILLY: GOOD GUYS WON WAR ON CHRISTMAS
The Brays spent the first 11 months of 2016 on a "roller-coaster," after learning on Feb. 10 the plant was winding down, said T.J.'s wife, Amanda, 32. Although they spared son Zane, 6, and daughter, Jovie, 4, the near year-long anxiety, the Brays told their children the good news on Nov. 30, after getting word that Carrier's parent company had reversed its plans. The decision came after officials met with Trump and got tax incentives from Indiana, where Vice President-elect Mike Pence is still governor.
"My daughter now says 'Daddy, Donald Trump saved your job!'" T.J.Bray said. "Mommy and Daddy don't have to worry about anything."
Amanda Bray said the year was difficult.
"T.J. is my rock; my security blanket –but when he told me the news, I could hear the panic in his voice," she said. "I knew at that very moment our roles were going to switch, and I would have to be the strong one and lift him up –I never had to play that role."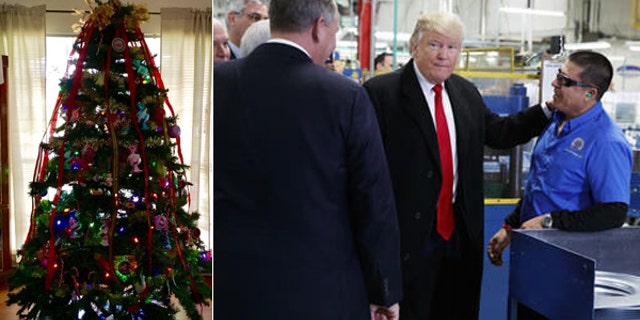 Her husband acknowledged there was fear behind the brave face he tried to wear for nearly a year.

"It's a blessing to know you could lose your job a year in advance, but it's like you're waiting for your funeral," he said.
But now, "It's Christmastime and knowing my job is safe, we can now breathe a bit easier," he added.
Robin Maynard, who has worked for Carrier for 24 years, said having his job saved has made him even more appreciative of what really matters during the season of caring and charity.
"We're going to give a little bit more this year than we have in the past," said Maynard, a Carrier group leader.
His wife, Candy Maynard, is a former sixth-grade teacher who is now on disability due to a decline in health this year. Losing the family income would have hit the couple and their three daughters hard.
"God is in control and we're so blessed the Lord is taking care of us," Candy Maynard said. "This made our Christmas so much brighter."
The same lesson is not lost on the Brays, who say their children were "always going to have a good Christmas," but that the family has learned time together means more than "extra things."
"Priorities get put into perspective really quickly," Amanda Bray said. "We've changed our way of life, and I don't think I'll go back."
Amanda Bray said the family drew closer, as they saved whatever extra money they had for experiences and memories, rather than material things. Highlights included their family vacation to the beach, and a trip to New York City to watch the Macy's Thanksgiving Day Parade.
"We promised we would take the kids on vacations long before the bad news about T.J.'s job, and we made it happen – I didn't want to disappoint them," Amanda Bray said.
Spoiler alert: If you are one of the Bray children, stop reading now.
Zane's list has been checked twice, and Jovie is going to get the Barbie Dream House, complete with an elevator. It will come from Santa by way of a single mom Amanda Bray found on Facebook, who offered her own daughter's a gently used version for a fraction of the $149 retail price.
"I'm helping her and she's helping me; and if my children want something, no matter what, I'll figure it out," Amanda Bray said. "I think that's what moms do."