Christie orders odd-even gas rationing for some New Jersey counties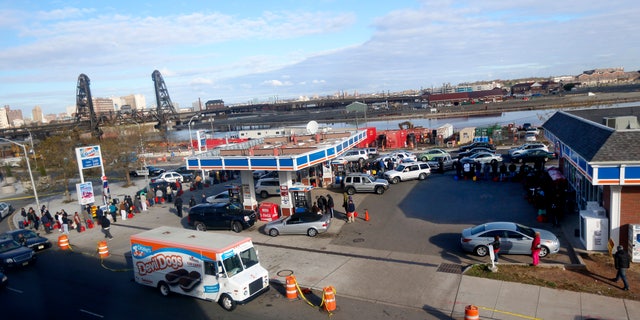 NEWYou can now listen to Fox News articles!
TRENTON, N.J. – If you're planning to line up for gas in New Jersey Saturday, better check your license plate first.
The state is moving to an odd-even gas rationing system in 12 counties starting at noon.
Gov. Chris Christie ordered the odd-even system late Friday as reports of frustrated drivers trekking up to 60 miles to find fuel began to emerge.
He says it will help ease fuel shortages and extended lines for gasoline that have occurred since a superstorm decimated the coast this week.
Residents with license plates ending in an even number will be able to buy gas on even-numbered days and residents with plates ending in an odd number can make gas purchases on odd-numbered days. Specialized or vanity plates without any numbers will be considered odd plates.
"I encourage all New Jerseyans to abide by this system – motorists and retail dealers alike – to ease wait times and improve access for everyone," Attorney General Jeffery S. Chiesa said in a statement.
"Those who choose to disregard this order will be prosecuted to the fullest extent permitted under the Governor's state of emergency authority," Chiesa said.
In New Jersey, where lines at the few stations that were able to pump fuel stretched for miles, state troopers were deployed at all gas stations along the NJ Turnpike and Garden State Parkway as the region endures its fifth full day with massive power outages.
The order is in effect for the counties of Bergen, Essex, Hudson, Hunterdon, Middlesex, Morris, Monmouth, Passaic, Somerset, Sussex, Union and Warren.
Frustrations continue to grow along the East Coast as long lines at the pump in New York and Connecticut are also leading to fuel shortages, driver tensions and station closings. Drivers in Connecticut are waiting for hours in line behind New York City taxi drivers who have come in search of fuel.
Tensions are boiling over quickly as news that a Queens man was arrested Friday after pulling a gun on another driver as they waited in line for gas emerged. Authorities say he tried to cut the line and pulled a gun on a motorist who complained.
But state officials are hopeful that temporary lifts on tankers in New York Harbor and temporary rationing at the pump will help ease the shortages.
The Department of Defense is also setting up free emergency mobile fuel stations in the New York City area.
"I think you're going to see some easement over the weekend. You'll see normalcy next week, Sal Risalvato, executive director of the New Jersey Gasoline, Convenience, Automotive Association told The New York Post.
New York Gov. Andrew Cuomo announced Saturday that 8 million gallons of gas has been delivered in New York, and that another 28 million gallons is on the way.
He said the fuel trucks are being sent to key locations in New York and suburban Long Island for emergency vehicles and the public. The news will bring relief to the Long Island region, where the storm left some areas completely dry of fuel.
"There should be a real change. People should see it quickly," New York Gov. Cuomo said.
The Associated Press contributed to this report.