CHP says 8 students struck by truck should survive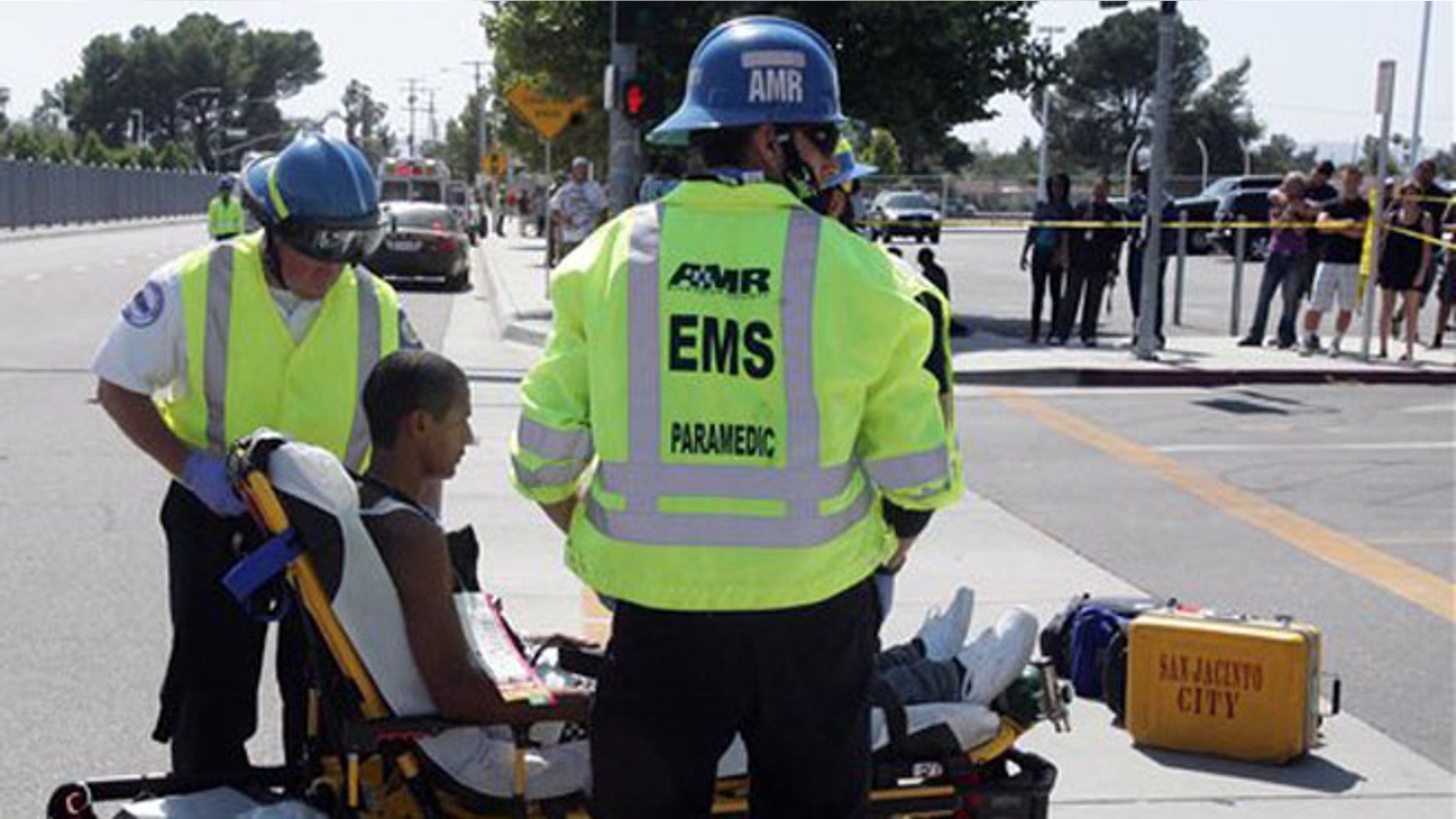 HEMET, Calif. – All eight students injured when they were struck by a pickup truck that ran a red light outside a Southern California high school should survive, the California Highway Patrol said Thursday.
The injury toll in Wednesday's accident was reduced by one when investigators determined a 60-year-old woman was not injured, as previously reported, CHP spokesman Darren Meyer told the Riverside Press-Enterprise.
Three students were initially listed in critical condition, but their prognosis is good, he added.
Riverside County Regional Medical Center in Moreno Valley declined to confirm any condition reports.
The crash came two days before school was to let out for the summer.
The CHP's major accident investigation team will inspect the 1994 Ford Ranger that authorities said was driven by 18-year-old student Daniel Carrillo, who suggested a mechanical malfunction caused the crash.
"That will either show evidence — or rule out" any claims of mechanical failure, Meyer said of the inspection.
Carrillo was not under the influence of drugs or alcohol, Meyer said previously.
Investigators were also reviewing surveillance video from cameras in the area.
"It clearly shows the vehicle and the collision," Meyer said. "And we still have more witnesses to interview."
CHP officers said the truck carrying Carrillo, his twin brother David and a 16-year-old friend was traveling above the 25 mph speed limit for the school zone when it entered an intersection where as many as 30 students were crossing with a green light.
Witnesses told the newspaper that the truck, modified for off-road use, seemed to accelerate into the intersection, running a red light and hitting the pedestrians.
Rick Chavez said he was waiting at the red light after picking up his son.
"I saw the truck and started screaming out 'Whoa, whoa, whoa!'" Chavez said. "He plowed right into the kids."
School activities director Al Fernandes said his 17-year-old daughter was among those hit. He told the newspaper she was conscious and talking but extremely sore.
The CHP will decide whether to file criminal charges after its investigation is complete.
Hemet is about 80 miles southeast of Los Angeles.