Child on tricycle rides into traffic in California in dramatic video
A small child on a tricycle had a heart-stopping moment Monday when he rode into rush hour traffic in Southern California that was captured on a dashcam video.
The terrifying incident happened in Santa Ana around 5:30 p.m. on Monday, right in the heart of rush hour – thankfully the vehicles missed the toddler.
"I think he's so lucky," Sarah Tran told FOX11. "He's so lucky that nothing happened to him, especially on this busy day."
Tran, who shared her dashcam video with FOX 11, said she stopped her car, ran out and grabbed the child and brought him to safety.
MASSACHUSETTS SKYDIVING PLANE FLIPS OVER DURING LANDING
"He was determined to go into the middle of the road," she said. "I was so afraid of cars just not seeing him because he's so small and bolting into him."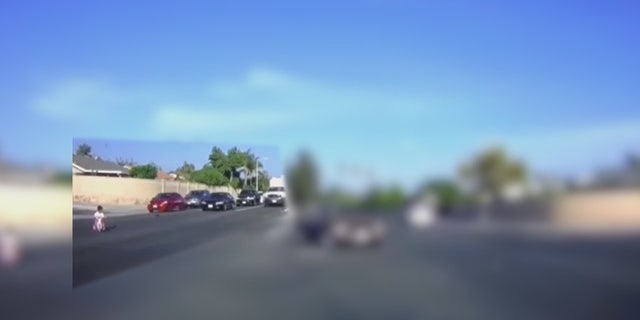 Santa Ana PD Corporal Anthony Bertagna said the incident was not reported to authorities, but that he wished to have the chance to question the child's guardians.
"Was the kid supervised? How did the kid get out into a busy street like that, that would be evaluated," he told FOX11. "These incidents are on a case-by-case basis."