Chicago's predatory funeral homes target homicide victims, cash in on taxpayer-funded expenses
CHICAGO – Predatory funeral homes have been accused of cashing in on Chicago's relentless crime wave by taking advantage of a taxpayer-funded scheme that pays $7,500 in funeral expenses for homicide victims' families.
Advocates have accused some funeral directors of inflating prices or charging families for services they never received.
"Every funeral home in the state knows that victims get $7,500 for a funeral and it's their goal to charge the entire amount because it's easy money," Susan Johnson, executive director of Chicago Survivors, told Fox News.
CHICAGO MAYOR FIRES BACK AT TRUMP AFTER PRESIDENT SLAMS CITY'S CRIME RATE, 'SANCTUARY' STATUS
Johnson, whose organization helps people who have lost loved ones to homicide, claims some zero in on people receiving money from the Illinois Crime Victim's Compensation fund.
The state – along with the federal government – provides eligible victims of violent crime with up to $27,000 in financial assistance for out-of-pocket expenses. The families of murder victims get $7,500 for funeral costs.
According to the National Funeral Directors Association, the average cost of a funeral for an adult is between $7,000 and $8,300. The Federal Trade Commission puts the figure slightly higher at around $10,000.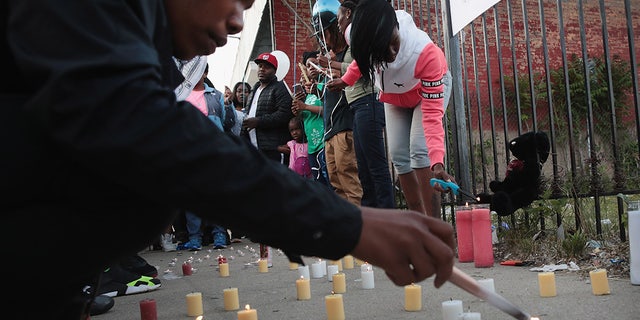 The $7,500 from the Crime Victim's Compensation fund is supposed to go toward staff salary, use of facilities, transportation, a casket as well as other memorialization costs. The price jumps if flowers, clothing or an obituary is added.
Johnson, a former pastor, says she's seen families who have been overbilled and underserved.
GETAWAY DRIVER IN CHICAGO SHOOTING OF 15-YEAR-OLD HADIYA PENDLETON CONVICTED OF MURDER
In one case, she claims a funeral home held a body hostage because the family could not come up with additional funds after being quoted one price but charged a higher amount.
"It happens all the time," she said.
She added that even though there are laws in place to protect consumers and prevent funeral homes from cold calling families or soliciting outside the medical examiner's office, few offenders ever face consequences.
The bad behavior is allowed in part because cash-strapped cities like Chicago lack the resources to crack down on fraudsters, giving greedy operators the green light to target grief-stricken families.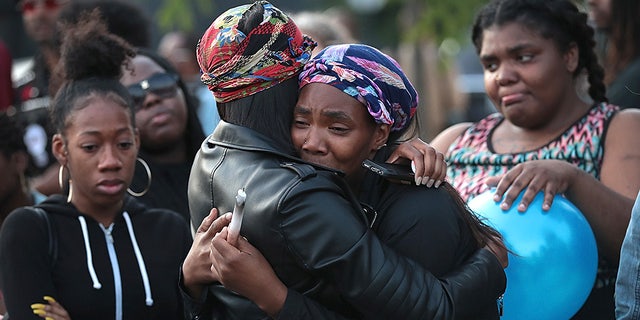 In recent months, the Windy City has gained national notoriety for its soaring crime rate. Even with an additional 600 officers on the streets, 58 people were shot last weekend - seven fatally.
CHICAGO POLICE CHIEF BLAMES CITY VIOLENCE ON LENIENT JUDGES AND PROSECUTORS
Rooting out funeral fraud, by comparison, is not something on the radar of authorities.
"It's not a high priority," Johnson said, adding that she's been privately told there are simply not enough resources at the national, state or local level to go after those trying to bilk the system.
"That's the excuse of every government agency, isn't it?" Joshua Solcum, executive director of the Funeral Consumers Alliance, told Fox News.
Solcum, who describes his non-profit organization as the "Consumer Reports magazine of funerals," says he too has heard horror stories of funeral homes taking advantage of people.
"(The families) have an ethical right to be angry," he said. "It's one of the worst ways to victimize people."
Some funeral homes have driven up prices so high that the families couldn't afford burial costs.
RAHM EMANUEL UNDER INCREASING FIRE FOR LINKING CHICAGO VIOLENCE AND MORALS IN MINORITY NEIGHBORHOODS
The Illinois attorney general's office, as well as multiple state and local leaders, declined to comment on what – if anything – it is doing to combat the problem.
The National Funeral Directors Association maintains its members are required to abide by the code of professional conduct "which is centered on an obligation to serve families in an honest and fair manner."
The organization told Fox News that all funeral homes in the United States must adhere to the FTC's funeral rule which "requires transparency when discussing prices with families."
And though consumers can file complaints with the FTC, the agency tends to act only after seeing patterns of abuse, multiple sources told Fox News.
Another reason some funeral homes are not held to account is because victims' families are often too emotionally drained to report abuses.
"They've had it," Johnson said. "They have just gotten through the worst thing in their lives and they don't want to get into a protracted fight with a funeral home."
Johnson says grieving relatives are often asked to sign additional documents at the viewing or just before the funeral begins. Most of the time they don't know what they are signing or are still in so much shock that they fail to comprehend what's happening.
Items that they don't need or services that were never rendered get tacked onto the bill.
"It's disgusting," she said.
In one particularly shocking case, a 45-year-old woman's body had been partially burned. The funeral home failed to pick up her remains in time for the service. Instead, they put an empty casket in front of the church and didn't tell the family. When the victim's 19-year-old son demanded to see his mother's body, the funeral director eventually produced a second casket. When it was opened, mourners were horrified that the mortician failed to dress the body as they claimed they had. The last image the son had of his murdered mother was a charred and mangled mess.
In another incident, a Chicago funeral director decided to cancel a viewing and service four hours before it began. He based his decision on faulty information that the victim was part of a gang. Johnson, who was assisting the family, says she repeatedly told the funeral director this was not the case, going so far as to get the commander of the police to call and vouch for the victim.
When Johnson kept pushing, she claims the funeral director hissed, "'What are you, an effing lawyer?'"
"And he didn't use the word effing," she added.
Solcum believes that even if some people feel betrayed by the system, they should still voice their complaints.
"I would say directly to any family… please, please speak up."