Chicago police search for missing autistic athlete who disappeared during Special Olympics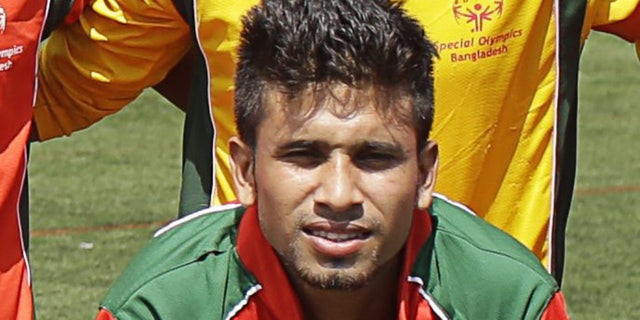 A search is underway for an autistic soccer player from Bangladesh who disappeared outside a Chicago hotel he was staying at during the Special Olympics.
Rezwanul Haque, 22, who does not speak English, was last seen in hotel surveillance footage voluntarily getting into an SUV on Thursday afternoon, a day before the games were set to begin.
Chicago police spokesman Anthony Guglielmi told the Chicago Sun-Times that Haque was supposed to meet with a group on Friday but never showed up. He said the group contacted police several hours after an unsuccessful search.
Police said Haque's disappearance has been classified as a high-risk missing person. They don't believe there was foul play.
"We are working very hard to find him," Guglielmi told the Chicago Tribune.
He has black hair and brown eyes, is about 5-8 and weighs 160 pounds.
Haque was last seen wearing a blue hat with the letters "USA" on the front, a blue polo shirt with "Bangladesh" written in red on the back, white gym shoes and black pants, police said.
"We're deeply concerned as our foremost priority is the well-being and safety of our athletes," Special Olympics International said in a statement Saturday. "We are working with the local authorities to help locate the missing athlete."
Haque is in Chicago to participate in the 50th anniversary of the Special Olympics, which kicked off Friday. He won a gold medal in badminton at the 2015 games in Los Angeles, the team's website said.
Anyone with information should call 312-747-8380.