Chicago police officer dies after being shot multiple times
A Chicago police officer died after he was "senselessly murdered" in a downtown building Tuesday afternoon, police said.
Commander Paul Bauer, of the 18th District, was chasing a suspect when he was "shot multiple times," Police Superintendent Eddie Johnson said at a news conference.
Bauer, 53, had spotted a man matching the radio description of an armed suspect when he "engaged in an armed physical confrontation," around 2 p.m., Johnson said.
The superintendent said that while "any loss of life in this city is tragic, today is difficult."
Anthony Guglielmi, Chicago police's chief communications officer, clarified early Wednesday that Bauer was on duty at the time he was killed. Earlier reports said Bauer was off-duty.
After the shooting, Bauer was transported to Northwestern Memorial Hospital. Fox 32 Chicago reported the commander was shot in a stairwell of the Thompson Center in the city's downtown business center.
Sources told Fox News that police seemed to be responding to a robbery but it's unclear what the suspect was doing that prompted officers to want to speak with him.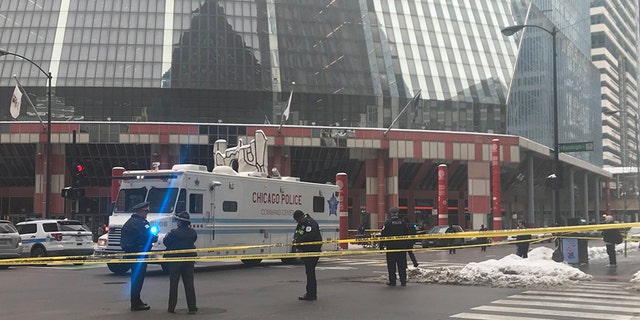 A "person of interest" has been taken into custody, police said.
Chicago Mayor Rahm Emanuel said "Bauer stood for the highest ideals of our police department & our city—to serve and protect the people of Chicago."
Bauer was a 31-year veteran of the Chicago Police Department.
Fox News' Matt Finn and The Associated Press contributed to this report.