Chicago launches bike-share program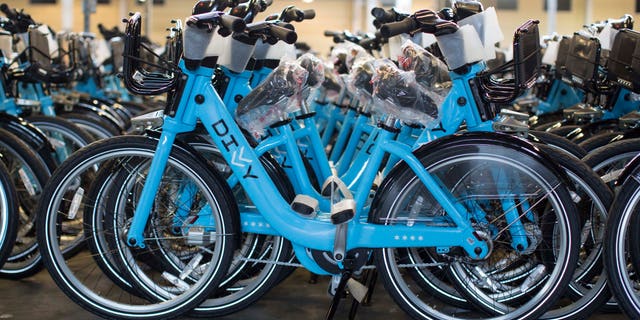 CHICAGO – The newest piece of Chicago's vast transit puzzle will not rumble between skyscrapers on its 100-year-old elevated rail lines or utilize its fleet of hybrid buses. The city is turning to thousands of shared bicycles to send commuters and visitors zipping on their way.
Chicago joins New York, Los Angeles and San Francisco this year in catapulting what was once just an eco-friendly option for smaller cities into the transportation mainstream of the largest urban expanses. Years behind Europe and China -- which has by far the world's largest bike-sharing system -- the United States now has more than two-dozen programs in cities ranging from Tulsa, Okla., to Boston and Washington, D.C., with dozens more in the works.
Cyclists are no longer an afterthought for city planners who say bike lanes are a useful tool to transform urban stretches into more livable, safer and functional spaces. Transportation officials are also racing to stay a step ahead of urban populations swelling with young people who reject the car-centric lifestyles of older generations.
The concept is hassle free: grab a bike from a curbside station, ride for up to 30 minutes, then lock the bike at any docking point. Those signing up early say they're hopeful it will fill gaps in the transit network, offer an alternative to expensive -- and sometimes nerve-jangling -- cab rides and allow for easier quick commutes. It also provides access to a bike without the hassle of having to make repairs or worry about keeping thieves at bay.
"I take a bus and then a train and ... my commute can be anywhere from 25 minutes if the stars align, or it can be 45 minutes. Being able to bike is so much quicker and more predictable," said Emily Blum, a 38-year-old anti-poverty campaigner who signed up for Chicago's bike-share program after learning about it on Mayor Rahm Emanuel's Facebook page.
The program, named Divvy to represent its divide and share principle, launches June 28. Divvy will start with about 750 bikes at 75 solar-powered docking stations and expand over the next year to at least 4,000 bikes at 400 stations scattered across the city. Users can get a $75 annual membership or a $7 day pass. Designed for short trips, Divvy's fees for late returns start at $2, but rapidly increase the longer you hold onto the bike.
It will be one of the biggest bike-sharing systems in the country, but will trail the scope of New York's 6,000-bike system that more than 30,000 people signed up for in the first two weeks.
The Chicago Department of Transportation initially planned to introduce Divvy on Friday, but pushed the launch back by two weeks to allow more time to test the system and docking stations. That followed problems with the New York bike-sharing scheme, which is operated by the same company, Portland, Ore.-based Alta Bicycle Share. Users there reported trouble docking bikes and using credit cards to pay.
Emanuel, whose mayoral campaign emphasized bike paths and cycling, tapped as transportation commissioner Gabe Klein, who set up Washington's popular bike-share system in September 2010. That program has had to expand to meet demand. It has logged more than 4 million rides and breaks even or turns a profit -- a rare thing in the world of transportation.
"If you're going to be (among) the major cities that are thriving culturally, thriving intellectually, thriving economically as a force, bikes today are where discussions of what a bus stop or a train stop was 30 or 40 years ago," Emanuel told The Associated Press.
Emanuel also believes hip new projects, such as Divvy's fleet of bright blue bikes, provide selling points when trying to lure tech startups and other businesses to the city.
Cycling programs also give mayors something to brag about for relatively little money. Setting up Divvy is costing $22 million, all but $4 million of it from federal funds. By contrast, one of the city's biggest public works projects this year -- a complete rebuild of just 10 miles of rail track -- is costing $425 million.
"Since there's very little earth-moving being done on new transit projects, this gives towns something new and exciting on the cheap," said Joseph Schwieterman, an authority on urban transportation at Chicago's DePaul University.
Cycling has long been popular in Chicago -- Schwinn was founded here in 1895 -- but in recent decades biking dropped off with the muscle of the automobile.
Now things are shifting again.
"Bike to Work" events are even held in the depths of Chicago's frigid winters, and the city has carved out 170 miles of bike lanes with plans to reach 645 miles by 2020. The busiest cycling artery -- Emanuel says it's the most biked stretch of road in America -- is Milwaukee Avenue, where 4,000 cyclists ride between the city and its northwest outskirts each day.
"It's crazy," says Tim Coonan, 48, who marvels at the traffic while roasting coffee in the window of his cafe, Big Shoulders Coffee. "It looks like the Tour de France coming by."