Chicago cop charged with sexually assaulting suspect in custody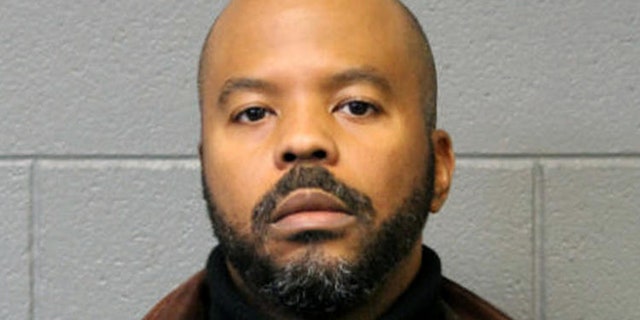 An on-duty Chicago police officer, who once negotiated with a knife-wielding man for three hours, has been charged with sexually assaulting a male suspect in his custody last month at a local hospital.
Carlyle Calhoun, a 10-year veteran of the department, was charged Tuesday with aggravated criminal sexual assault and official misconduct. He was ordered held on $200,000 bail.
Cook County prosecutors allege the 46-year-old Calhoun and another officer were assigned to take a male victim to St. Bernard Hospital after the unidentified man expressed suicidal thoughts after a Feb. 3 arrest.
At the hospital, the victim, whose age was not given, was placed under guard while he underwent observation, the Chicago Tribune reported.
AUSTIN SERIAL BOMBING SUSPECT MAY HAVE OTHER DEVICES 'OUT THERE,' COPS UNCOVER 'TREASURE TROVE OF INFORMATION'
When the other officer left to eat, Calhoun allegedly began to massage the man's bare foot, which was shackled to the bed.
Prosecutors said Calhoun then grabbed the victim's genitals and took a cellphone photo of them.
After the other officer return, Calhoun escorted the man to a bathroom down a hall, where he then proceeded to sexually assault the man despite his protests to stop, police said.
Assistant State's Attorney Ahmed Kosoko said Calhoun took another photo of the man's genitals.
After Calhoun left, the victim informed hospital staff.
Swabs taken from the victims matched Calhoun's DNA and police seized incriminating photos from his cellphone, Kosoko said.
Anthony Guglielmi, spokesman with the Chicago Police Department, told the newspaper that Calhoun was relieved of his police powers and placed on paid desk duty last month after the allegations were made. He said since the criminal charges were filed the department will move to suspend him without pay.
A judge ordered Calhoun surrender any firearms in his possession if he posts bail.