Chevrolet dealer sued for canning Marine Reservist after he enlists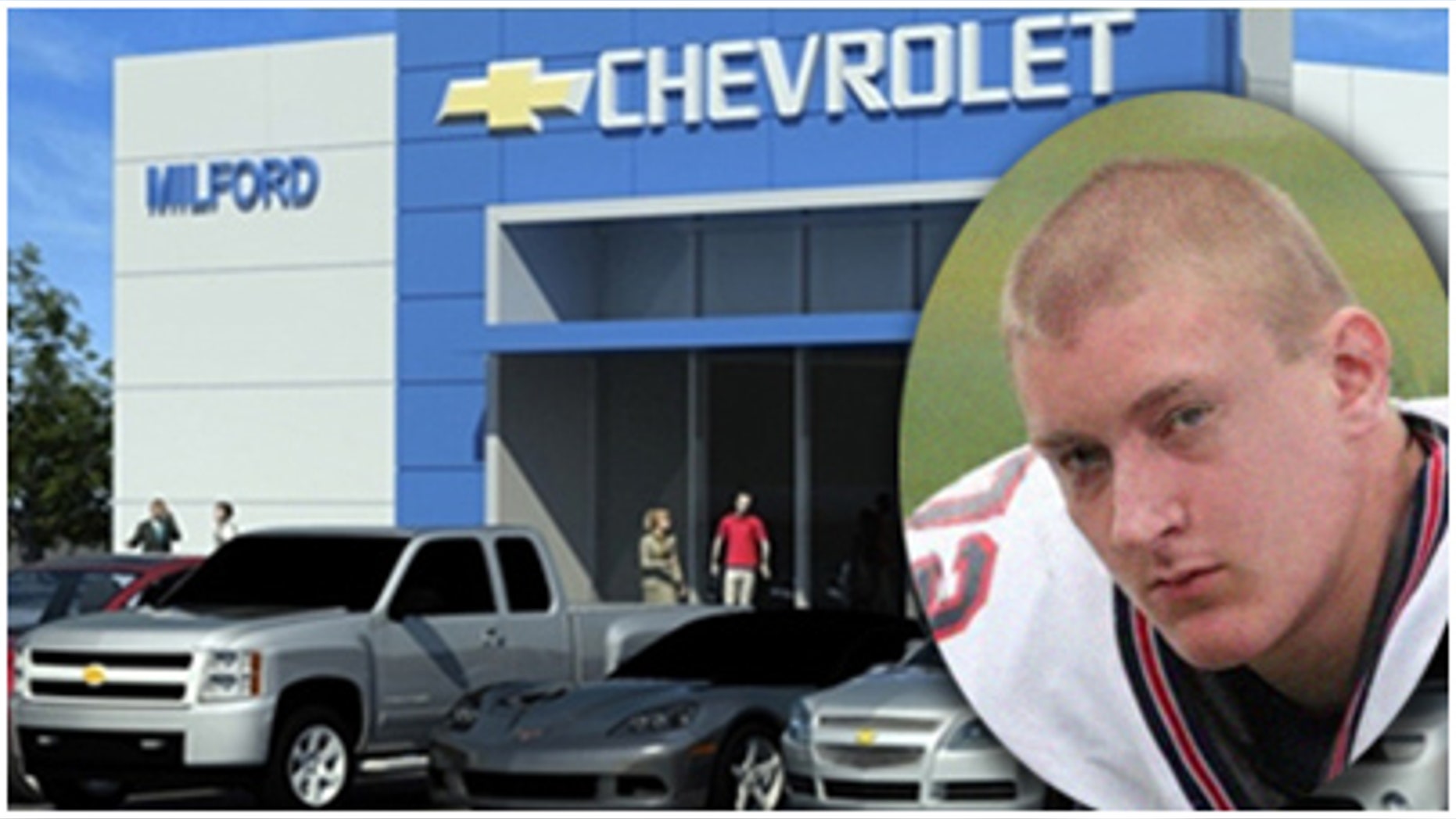 An 18-year-old Marine reservist is suing a Connecticut car dealership for stalling his dream of becoming a car mechanic by firing him after he enlisted, according to his attorney.
Derek Laaser was forced by his supervisor at Chevrolet of Milford to choose between serving his country or serving Chevy, his lawyers allege in a lawsuit filed Thursday in U.S. District Court in Bridgeport. When Laaser picked the Marines, he was canned, his lawyers say, claiming the dealership violated the Uniformed Services Employment and Reemployment Act.
"He's a nice kid. He's hard working and chose to serve his country," Laaser's attorney David Slossberg told FoxNews.com. "He's what's right about America. What this dealership has done to him is not right."
Laaser was hired by the dealership last October as a part-time technician trainee under the General Motors Automotive Service Educational Program, which allows aspiring mechanics to earn an associate degree in automotive technology, according to court documents obtained by FoxNews.com.
In December, Laaser received word that he was accepted into the Marine Corps Reserves. When he told his boss he would have to leave for training in South Carolina this month and would not return until September and that his commitment would require him to report for duty one weekend a month and two weeks in the summer, he was fired.
Around the same time, Laaser was promoted at the dealership as a Class C mechanic and began to repair vehicles without any assistance.
[pullquote]
In February, supervisor Nick Saccomanno asked Laaser if he could start working weekends, prompting Laaser to remind him of his military duty. Saccomanno, who declined to comment, allegedly claimed it was the first he'd heard of it and told Laaser he needed to "choose between a career at Chevrolet of Milford or leaving for military service," according to the documents.
Regulations governing the GM program stated Laaser could not lose his job based on misconduct and poor performance, so he asked his supervisor to draft a note saying why he was being let go.
Saccomanno wrote a note stating that Laaser chose to leave the dealership to pursue a career in the military.
"His boss actually handed him a memo stating that the reason he was being fired," said Slossberg.
A General Motors spokesman told FoxNews.com the dealership is independent, but said the Detroit carmaker will be following the lawsuit carefully.
"Although the dealership is an independent business we are keeping a close eye on the matter. GM does not tolerate any illegal behavior by dealers associated with the company," a spokesman for the car manufacturer told FoxNews.com -- adding that they have long supported men and women in the military and that they provide full pay and benefits to employees while they are serving.