Charleston restaurant gunman who killed employee shot by police, hostage rescued, mayor says
A hostage situation in a South Carolina restaurant Thursday has ended after police shot the gunman, according to officials.
One person was held hostage in the restaurant, Virginia's on King, and has been safely rescued from the building, the Charleston Police Department said on Twitter.
Police also confirmed that the restaurant employee who was shot by the assailant has died.
The gunman, believed to be a disgruntled employee, was shot by police and taken to a local hospital in critical condition.
"The shooter is a disgruntled employee. This is not an act of terrorism or hate crime," Mayor John Tecklenburg said at a news conference.
Charleston police received a call about an "active shooter situation" just after 12 p.m. at Virginia's on King, the mayor's office said.
John Aquino, an owner of the restaurant, told WSCS he thinks the gunman, who was dressed as a kitchen staff member and Aquino believes to be a former dishwasher, was angry and shot a male chef out of revenge.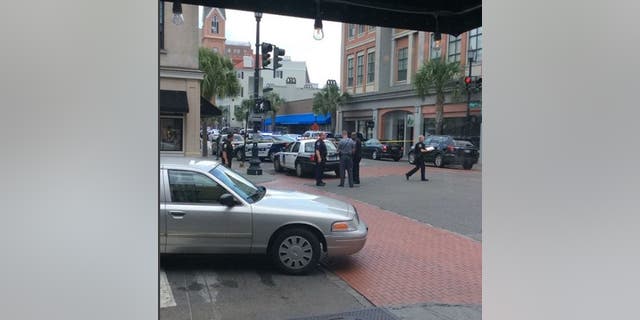 Tecklenburg said as of 2:30 p.m. the situation is "still unfolding" and the shooter is still in the building. Charleston Police spokesman Charles Francis told reporters the shooter was holding "a couple" of hostages and negotiations between officials and the shooter are being conducted.
The area surrounding the restaurant was blocked and Charleston police asked residents to avoid the area.
Tom and Patsy Plant, who were eating lunch in the restaurant, told The Post and Courier a man came into the kitchen with a loaded gun and said, "There's a new boss in town." The couple escaped the restaurant through the back door.
Another diner said the unidentified armed man locked the front door and announced, "I am the new king of Charleston."
About 30 people were dining in the restaurant at the time, witnesses told the newspaper.
Charleston Police sent SWAT teams and a bomb disposal unit to the area and warned people nearby to stay inside buildings or leave.
The incident is a few blocks away from Emanuel AME church, where nine black members of a church were killed by a white man during a June 2015 Bible study. Dylann Roof was sentenced to death in the case.
The Associated Press contributed to this report.