Catholic priests arrested after allegedly engaging in sex act in car near Miami Beach: report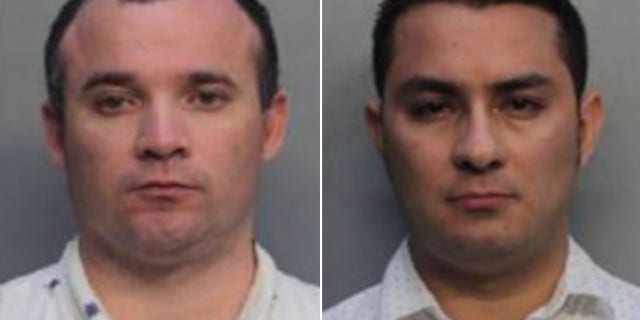 Two Catholic priests were arrested Monday after police said they were caught performing sex acts on each other in a parked car near a Miami Beach playground, reports said.
Diego Berrio, 39, and Edwin Giraldo Cortez, 30, face charges of lewd and lascivious behavior after a passerby spotted the alleged rendezvous in a rented Volkswagen Beetle in broad daylight, the New York Post reported.
Giraldo Cortes also faces an indecent exposure charge.
The car did not have tinted windows, so officers said they were able to witness the sexual acts upon arrival, the newspaper reported. The two Chicago-area priests apparently didn't notice the police until officers knocked on the window to get their attention, the report said.
"I parked my vehicle and approached the passenger side of the vehicle on foot," an officer wrote on the arrest report, according to The Miami Herald. "I observed defendant Berrio in the passenger seat, performing oral sex on defendant Giraldo who was seated in the driver's seat. Giraldo's pants were unzipped and his genitals exposed.
Berrio and Cortez are from Arlington Heights, a suburb of Chicago.
Berrio served as a priest at the Mission of San Juan Diego and Cortez at the St. Aloysius Parish in Chicago.
In a statement Tuesday, the Archdiocese of Chicago said both priests will no longer serve as priests in the archdiocese.
"Cardinal Blase J. Cupich, archbishop of Chicago, has removed Fr. Berrio from ministry and withdrawn his faculties to minister in the Archdiocese of Chicago, effective immediately," the statement read. "The archdiocese will appoint an administrator for the Mission San Juan Diego as soon as possible."
Berrio was released from police custody Tuesday, the Post reported.