Casey Anthony's parents threaten to sue if she sells her story -- or appears in reality show with O.J. Simpson
Casey Anthony's parents said they would sue their daughter if she sold her story or if she appeared in a reality show with recently freed convict O.J. Simpson.
Anthony's parents, George and Cindy Anthony, sat down for an interview with Chris Hansen's "Crime Watch Daily" recently in which they opened up about their strained relationship with their daughter.
In the interview, Hansen asked about the previous reports that Anthony was apparently in negotiations to star in a reality TV show with Simpson that would chronicle their lives after their high-profile court cases.
"Oh god. If it came down to that, I would [sue]," Cindy Anthony told Hansen, the Orlando Sentinel reported.
In the interview, Anthony's parents did not hold back on their thoughts about their daughter, saying they believe she was mentally ill, People reported.
Cindy said she believed Casey might have had a seizure at the time of Caylee's death echoing Anthony's attorney, Cheney Mason, who said earlier this year that his client had a "blackout" following the toddler's death, People reported.
AFTER EXPLOSIVE CASEY ANTHONY INTERVIEW, HER FATHER'S 'HEART HURTS'
George Anthony, who said he has no relationship with his daughter, had a message for the young woman.
However, George Anthony, who said he has no relationship with his daughter since her defense team accused him of sexually abusing her and working to conceal Caylee's death.
"Stay away. Stay away from me. If she wants a relationship again with her mom, she's got a lot of explaining to do, but I don't want to hear it no more. I don't want to see her," he told Hansen.
Cindy's message to her daughter urged her to be honest and stop blaming others.
"Casey, be true to yourself, start being honest with yourself, and own everything. Quit putting blame on everybody else," Cindy Anthony said.
CASEY ANTHONY ON LIFE AFTER ACQUITTAL: 'I SLEEP PRETTY GOOD +AT NIGHT'
Anthony was acquitted in 2011 of killing her 2-year-old daughter Caylee. Prosecutors accused Anthony of murdering her daughter and hiding her body in the woods.
She currently lives in south Florida with Patrick McKenna, who worked on her defense team as a private investigator, People reported.
Simpson was acquitted in 1995 in the murder of his ex-wife Nichole Brown Simpson and her friend Ronald Goldman. Simpson was convicted in 2008 of armed robbery, kidnapping and other charges and was released from Nevada's Lovelock Correctional Center earlier this month.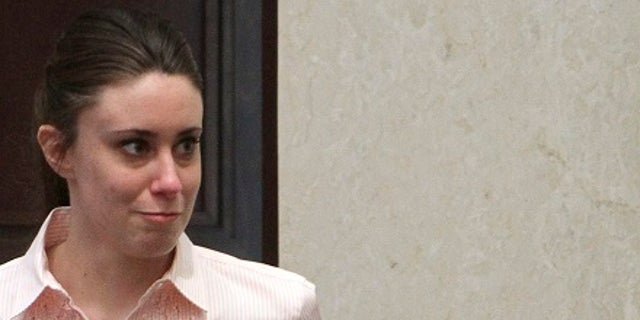 Anthony, 31, told The Associated Press earlier this year that she "empathized with his situation."
The interview, which was slated to air Monday, would also cover the defense theory of how the little girl died and discuss George's suicide attempt. The couple also told Hansen they faced foreclosure on their home where Casey grew up.