Caregiver Arrested in Crucifixion-Style Murder of Utah Woman; 2 Others Charged With Abuse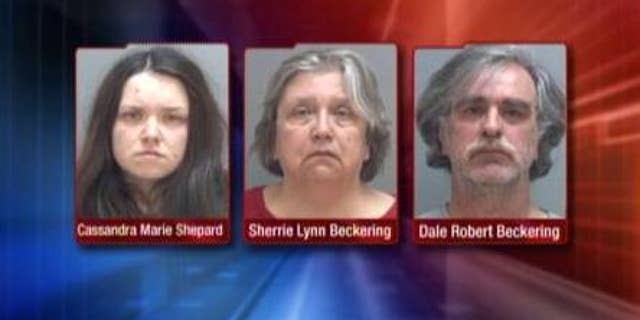 KEARNS, Utah -- Police have arrested three people in the unusual murder and abuse of a disabled woman in Kearns, Utah.
Authorities say Christina Harms, 22, was found dead, bound in the form of a crucifix in the closet of her family home. They say the body was bruised and evidence such as plastic zip ties and bandages allegedly show the victim was bound and tortured, Fox13Now reports. Harms had special needs and was unable to take care of herself.
"They found a closet in the family room and in that closet there was an alarm on the door and a metal bar hanging in the closet to where they found evidence of the victim being hung crucifixion-style in this closet," said Unified Police Lt. Justin Hoyal.
Police arrested Harms' primary caretaker, 27-year-old Cassandra Shepard, on charges of murder, domestic violence and obstructing justice.
Shepard's mother, Sherrie Lynn Beckering, 50, and stepfather, Dale Beckering, 53, were booked on the charge of domestic violence of a vulnerable adult. Police say the Beckerings took care of the victim for a good part of last year and were aware of the crime.
Police are now awaiting the results of an autopsy to confirm Harms' official cause of death. A motive in the case has not yet been determined. The suspects do not have criminal backgrounds, according to police.
"The case is still early and we're looking into all the motives and the reason for this, but this is obviously a very sad and tragic situation that took place in this residence," said Hoyal.
Several neighbors were shocked to hear about the murder.
"It disgusts me that someone would actually do that to a human being," said neighbor Michael Sly.
Another neighbor, Patricia Vigil, said the family moved into the home about two or three months ago and thinks no one really knew who they were.
Authorities have confirmed children were in the home at the time of the alleged crime. The victim had a 2-year-old daughter and Shepard has two children, ages 5 and 9. All of the children are now in state custody and not believed to be victims of abuse.