Campus turns on Muslim conservative who penned satire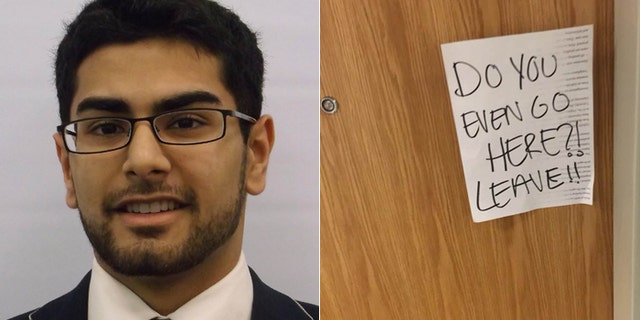 A Muslim conservative who took on political correctness at his college campus found out just how angry the very folks he was lampooning can get.
Omar Mahmood, a junior majoring in literature and anthropology at the University of Michigan, lost his job as a writer for the main campus newspaper and saw his front door tattooed with angry and profane messages after he wrote a satirical column dubbed "Do the Left Thing" for another publication. Written as parody, the column sought to poke fun at people who constantly perceive "microaggressions" -- a new term for small racial or ethnically-driven snubs.
After falling down, the fictional character in Mahmood's column takes offense when a white male student offers a hand.
"He offered his hand to help me up, and I thought to myself how this might be a manifestation of the patriarchy patronizing me," Mahmood wrote in the piece, which can be read at The College Fix, which first reported Mahmood's situation.
[pullquote]
Some students took offense to the article, saying it belittled their concerns about social justice. Mahmood, who is Muslim and describes his political views as mostly conservative and libertarian, says the first big backlash came when another student complained anonymously about being offended and he was fired from the student newspaper, the Michigan Daily.
"These progressive students attacked Omar because they felt that he, as a Muslim, cannot also be a conservative," Derek Draplin, a student and editor of the conservative student paper The Review, which published the parody, told FoxNews.com. "He doesn't fit their social justice agenda so they attack him, censor him, try to get him to shut up."
On Friday night, according to Mahmood, people attacked his dorm room door, egging it and leaving copies of his satirical article with notes on the backs including "Shut the f--- up!" and "You scum embarrass us" and "DO YOU EVEN GO HERE?! LEAVE!!" along with various others, including an image of a creature with horns and another one of him with his eyes crossed out.
FoxNews.com viewed surveillance footage taken early Friday at 1:40 a.m. local time inside of Mahmood's dorm, which is for students but is run independently of the university. It showed four figures meeting in the hallway and one of them handing the other three hooded sweatshirts. The three then put on hooded sweatshirts and go to his door. Mahmood says he believes he knows who the attackers were based on the footage.
The university says it is looking into the matter.
"This off-campus incident has been reported to the university's Bias Response Team for follow-up," spokesman Rick Fitzgerald told FoxNews.com. "The team will take appropriate action once information has been gathered."
Mahmood, of West Bloomfield, Mich., told FoxNews.com on Sunday that he was shocked by the level of vitriol he received as a result of his article.
"I expected backlash, but this is something else," Mahmood said, adding that things are near a breaking point for him.
"Last night I pretty much had a breakdown. I can't take my final exams -- that has been postponed to next year. And I hate to be dramatic, but this is almost at a breaking point, where this has been going on for a month and I have not been able to focus on things," he told FoxNews.com.
Mahmood added that the political environment on campus is radically left-wing and intolerant.
"Almost all student clubs have 'social justice' wings… some use violent rhetoric, shameless rhetoric, to promote their ideology, and call it 'liberation.' They call it 'tolerance' and 'equality' and 'creating a safe space' -- which is all very ironic," he said.
Mahmood said before the incident at his dorm, he was fired from the main student paper, the Michigan Daily. An email exchange sent to FoxNews.com by Mahmood shows Michigan Daily Editor-in-Chief Peter Shahin writing to Mahmood on Dec. 4 that "our best remediation at this point is your termination."
Mahmood chose not to appeal the decision, but responded with an email noting that, "I think you know as well as I do that common sense and freedom of speech are on my side."
Shahin did not respond to a request for comment.
Mahmood says he hopes people who hear about his story will email Shahin and ask him to let Mahmood know who was offended so he can talk things over with them.
"They really should have the maturity to come out and talk with me directly," he said.
In addition to being fired from the paper, Mahmood said he has been subject to angry comments from other students. It's made him wonder if he would do it all over again.
"There are times when I say to myself, 'Hell yes, I should have written that!'" he said. "And there are times when it's like, never in my dreams would I write it again, given the reaction I have had to deal with."
The author, Maxim Lott, can be reached at www.maximlott.com or at maxim.lott@foxnews.com.