Calm winds help fire officials control Utah blaze that destroyed 14 homes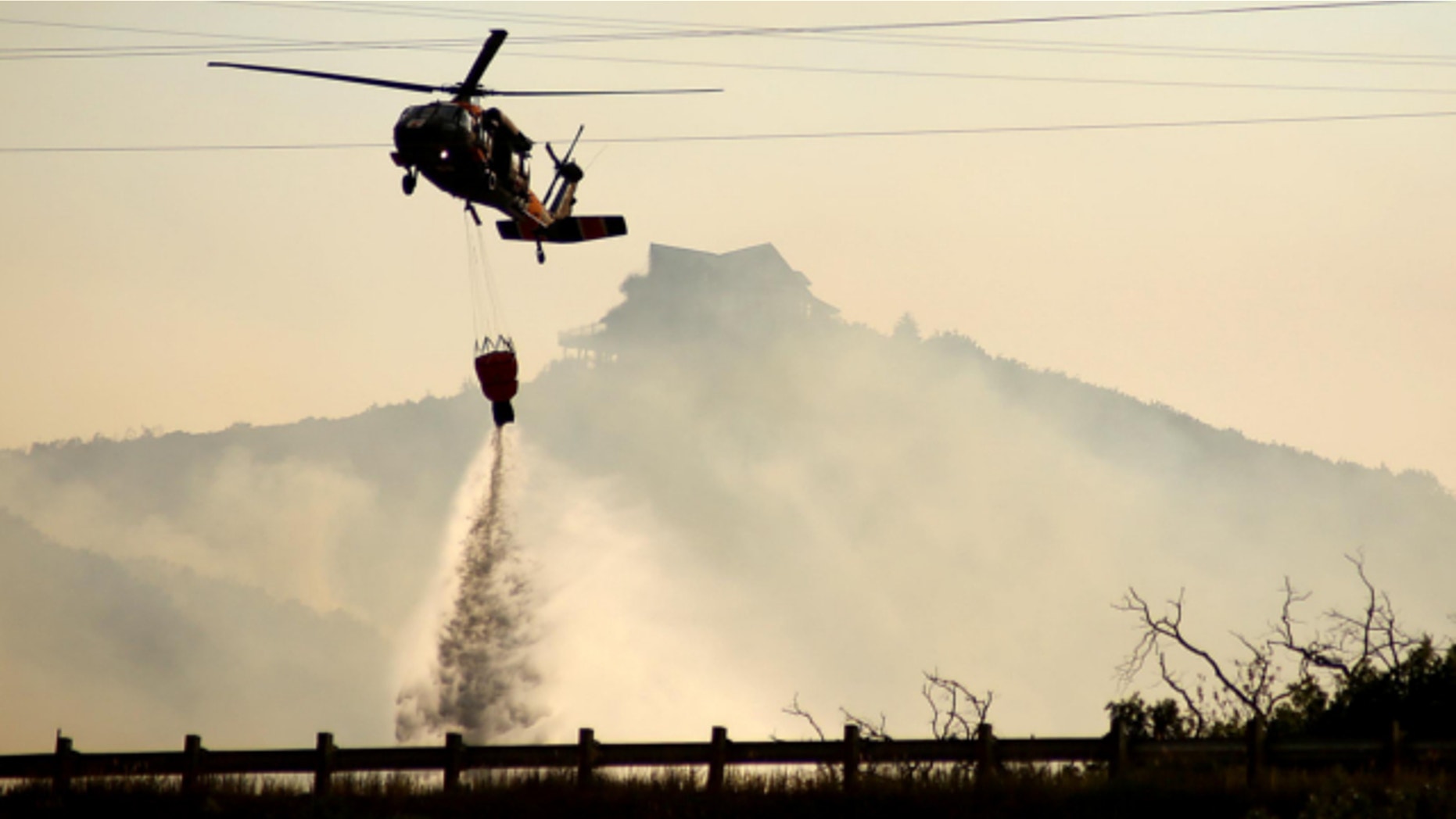 WANSHIP, Utah – Fire officials say they are starting to get control of a blaze that has burned 14 houses near a Utah ski resort town, but the evacuation of nearly 300 homes will remain for at least one more night.
Thursday's calm winds helped crews prevent the 2,000-acre fire from spreading or burning more homes, said Utah fire official Steve Rutter at a news conference Thursday afternoon. But the lighting-ignited fire is still only 25 percent contained — the same figure as Wednesday.
"We are getting the upper hand, but I don't like to speak of it because we are superstitious," Rutter said. "It can change in the space of one minute. The right breath of wind, the right slope with the right fuel and we could be chasing this again. It's still touch and go."
The smoldering fire and hot, dry conditions make it too dangerous still to allow residents back in their homes, he said. There are also downed power lines that still may be live, he said, and 500- or 1,000-pound propane tanks outside the homes that are leaking because the valves have burned. The tanks are used to heat the homes and water.
Nearly 300 upscale mountainside homes have been evacuated since Tuesday afternoon. They are about 10 miles northeast of Park City, Utah, the mountain town that is home to world-renowned ski resorts that hosted many events in the 2002 Winter Olympics. With no smoke coming from the fire Thursday, some evacuees wondered why they couldn't return. But fire officials said it's not as safe as it may appear.
"We have a lot of pockets of green in there that are still burning that are a threat to the homes," said Utah fire official Mike Eriksson, standing in front of a smoldering canyon dotted with big houses. "It's still just not safe."
The wildfire has placed many families in limbo, said Ian Jasenovic, who had just minutes to leave with his wife and their twin 4-year-olds. They grabbed the family's cats and photo albums, and later learned their house had been spared — for now. They are staying with friends in Park City.
"You feel displaced. You are out of your comfort zone," said Jasenovic.
While the evacuations remain in place, officers have been escorting people to their houses to grab pets, medications or other necessities. They allowed one woman getting married Saturday to return to her house to get her wedding dress.
"That was kind of emotional," Rutter said. "We're doing what we can."
Working in heat pushing 100 degrees, hundreds of firefighters set back fires and bulldozed lines Thursday to contain the 3.1-square-mile fire. Above them, helicopters made dozens of flights to and from a nearby lake to douse the flames with fire retardant. Commanders repositioned fire engines and crews to protect 250 threatened homes, some along a golf course in the gated community of Promontory.
The Rockport Fire started Tuesday afternoon by a lightning strike that shook a nearby convenience store and ignited a fast-moving blaze that quickly destroyed a dozen homes.
Two more houses were lost Wednesday, but firefighters saved 22 others from burning in the same area, said Summit County District Fire Warden Bryce Boyer.
The burned houses are mostly upscale homes built on picturesque mountainsides. The blaze has come dangerously close to dozens of other houses built along steep hillsides with vaulted ceilings and large picture windows visible from roadsides below.
The biggest and most expensive of the evacuated homes, in Promontory, were the safest so far, but those homeowners are also barred from returning home.
Most of the destroyed houses were year-round residences, said Claudia McMullin, chairwoman of the Summit County Council.
"It's very upsetting," she said. "I'm pleased there is no loss of life and I'm very sad for the loss of property."
The Park City-area fire was among 34 major fires burning 1,100 square miles across the West, including Alaska, officials said Thursday.
Two small wildfires ignited by lightning Wednesday at Yellowstone National Park didn't threaten visitors or structures, officials said. Yellowstone has two other small fires as well.