California's Carr Fire more than 50 percent contained, but still growing
California's two-week-old Carr Fire -- which has killed six people and burned more than 1,000 homes -- is now more than 50 percent contained, even as it continues growing, state officials said Friday.
The year's deadliest fire, in the Redding area south of the Oregon border, grew to more than 180,000 acres but reached 53 percent containment as of Friday, forestry and fire protection officials said, according to the Redding Record Searchlight.
"Firefighters continue to build and improve containment lines, and perform building operations in more active portions of the fire," the officials said in a statement, adding that "mop-up and patrol efforts continue throughout the less active areas."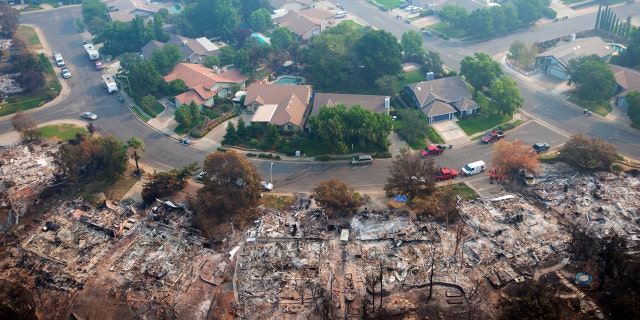 The six people who've perrished in the Carr Fire have included two firefighters.
A state fire heavy equipment mechanic assigned to the fire and a utility worker trying to restore power near the fire have died in car accidents.
The blaze was burning into remote and rugged forest land but grass, brush and trees there are so dry from years of drought and recent heat that the potential remained for the fire to grow, state fire officials said.
Even though fire crews have made progress against the biggest blaze in California history, officials said the fire won't be fully contained until September.
Redding is about a three-and-a-half-hour drive north of San Francisco.
The Associated Press contributed to this report.