California to release June water-savings report for first month of mandatory drought cutbacks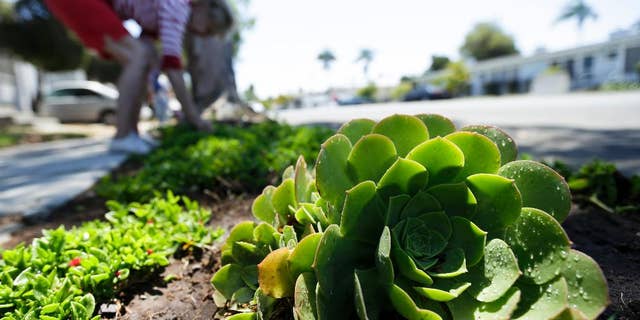 NEWYou can now listen to Fox News articles!
SACRAMENTO, Calif. – California regulators were expected Thursday to announce how much water cities conserved in June — the first month of mandatory cutbacks during the drought.
The disclosure comes after the state's largest cities already announced they met or exceeded mandatory conservation targets provided by the state.
The Los Angeles Department of Water and Power, the state's largest agency serving 4 million people, said it met its 16 percent savings target. Utilities serving San Diego, San Jose and San Francisco said savings far exceeded the goals from the state.
Communities have been given nine months starting in June to cut use between 8 and 36 percent compared to 2013 levels, the year before Brown declared a drought emergency.
The statewide conservation report is expected to show how hundreds of communities are faring as the drought drags through its fourth year.
Some communities opposed the targets assigned by the State Water Resources Control Board, calling the goals unfair and unrealistic. Agencies that don't meet targets face fines and state-ordered conservation measures such as a limit on how many days a week residents can water lawns.
San Diego was among the cities that said the state should give it credit for past drought-preparation efforts that included paying for desalinated water. The city said water use plunged 24 percent in June, well past its 16 percent target.
Robyn Bullard, a spokeswoman for the public utilities department, credited a campaign that included television commercials and an e-mail blast to customers.
Some large communities in the San Francisco Bay Area reported savings were nearly double what the state ordered.
San Francisco reported saving 20 percent after it was given just an 8 percent conservation target because it has one of California's lowest per-capita water use rates.
The East Bay Municipal Utility District, serving more than a million customers east of San Francisco, said it saved 31 percent in June, almost double its target.
San Jose Water Co. reported that its customers reduced consumption by 35 percent in June, compared to the 20 percent goal.
Regulators told residents that letting lawns go brown is the best way to save water.
July is expected to be another strong month for conservation because unexpected record rainfall in Southern California likely led to idle sprinklers.
____
Follow Fenit Nirappil on Twitter at www.twitter.com/FenitN.