California police officer sought for questioning in killing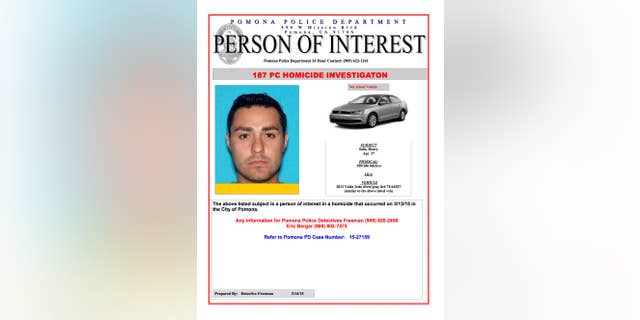 POMONA, Calif. – A car belonging to a rookie Los Angeles police officer wanted for questioning in a fatal shooting has been found, but the officer remained at large, police said Sunday.
The Volkswagen Jetta belonging to Officer Henry Solis, 27, was found a short distance from the site where a young man was gunned down early Friday in Pomona, police in the suburb east of Los Angeles said in a statement.
Solis was off-duty at the time of the shooting and failed to report to work the next day. Police said they have reason to believe he knows that detectives want to talk to him.
Cmdr. Andrew Smith, a Los Angeles police spokesman, said Solis was assigned to a station in the San Fernando Valley and had not completed his probationary period since joining the force in June.
Salome Rodriguez, 23, of Ontario died after being shot in the lower torso. He worked at a warehouse and was out with co-workers Thursday night, relatives told the Inland Valley Daily Bulletin.
Rodriguez was also a missionary with St. Vincent Catholic Church in Los Angeles, said his mother, Lidia Angelica Rodriguez.
Pomona police have issued a poster calling Solis a "person of interest" in the shooting that occurred in a downtown bar district after two men got into a fight.
Witnesses told police the attacker fled the scene, and they saw a compact car leaving the area.
Detectives said they don't believe the men who got into the fight knew each other.