California man suing Uber, driver after losing both legs due to 'crushing injuries'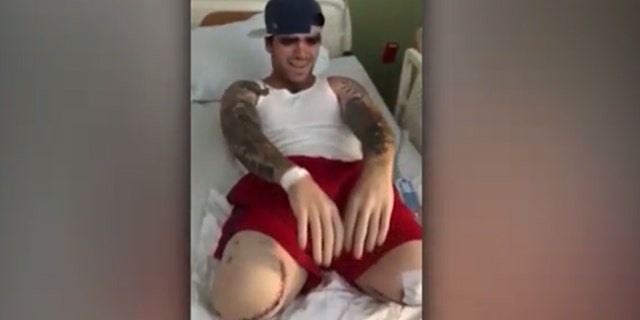 NEWYou can now listen to Fox News articles!
A 23-year-old California man is suing Uber after losing both of his legs in a traffic accident that allegedly happened while he helping one of their drivers push his stalled vehicle off a highway.
Brendan Brock was in the middle of a trip with the ride-sharing company on March 7 when the Jeep driven by Gregory Raymond Lopez ran out of gas on a freeway in Orange County, a lawsuit filed this week stated.
The lawsuit says Lopez stopped in the middle of one of the lanes and Brock was struck by another driver who lost control of his vehicle while Brock was trying to help Lopez get the Jeep off the road, FOX11 reported.
"Both of plaintiff's legs required amputation due to the severity of the crushing injuries," the lawsuit says, naming Uber, Lopez and the other driver among the defendants.
The station reported the law firm hired by Brock is hoping to get $25 to $50 million from Uber in the case, although the lawsuit says he is seeking unspecified damages.
Brock, in the court filing, accused Lopez of being unfit to operate his Uber vehicle and putting Brock "in a position to be hit by a car.''
Brock has since moved back home with his parents and is receiving daily care from them, FOX11 reported.
Uber said it was not commenting on the lawsuit. But in the past, the company has considered its drivers as independent contractors and stated Uber is not responsible beyond a $1 million insurance policy it offers.