California fishmonger buys 70-pound octopus to set it free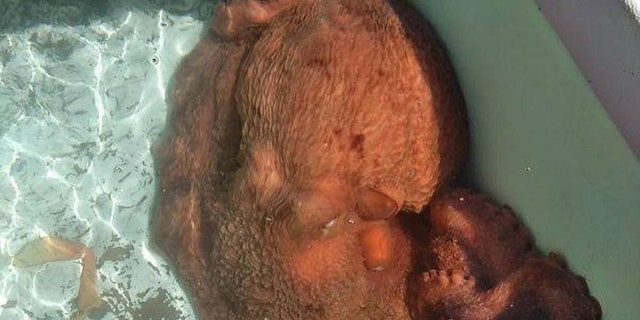 NEWYou can now listen to Fox News articles!
A fishmonger in central California reportedly purchased a 70-pound octopus so he could release it due to a "culmination of events" in his own life that includes learning about new research into the intelligence of octopus.
SanLuisObispo.com reported Tuesday that Giovanni DeGarimore, the owner of Giovanni's Fish Market, said he draws the line at selling octopus at his establishment. He told the paper that he couldn't bear the thought of this particular "beautiful" creature being cut up alive.
So when a dock manager called to inform him about a massive octopus caught in a crab trap, he forked over "a couple of hundred" and brought it back to his market. An employee there named it Fred.
DeGarimore said he released Fred on Thursday in a safe location.
DeGarimore told the paper that his cousin once bought an octopus at a sushi restaurant and freed it. He also recalled a time he visited Fiji and came across a "playful" octopus while scuba diving.
"Essentially, we played a game of hid and seek for 15 minutes under the ocean," he said.
He admitted to the paper that not selling the meat may hurt his pocket, but he said it's worth the price to promote awareness.