California firefighters revive unresponsive dog saved from house fire
Firefighters in California saved a small dog from a house fire and resuscitated him in a dramatic rescue caught on video Wednesday.
The Bakersfield Fire Department posted a video to Facebook showing the moment the small breed dog was pulled from the home, unresponsive, as its concerned owner looked on.
Officials were able to revive the pup, named Jack, using a specialized animal oxygen mask used to resuscitate pets.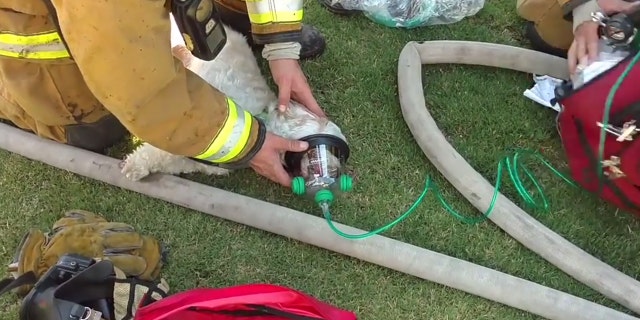 Bakersfield Fire Department Battalion Chief John Frando told KGET News the dog was suffering from smoke inhalation.
"We did pull that dog to the outside, he actually appeared very lifeless," Frando said. "We administered oxygen via a pet O2 mask that was generously donated by a couple of Girl Scouts just last year."
The dog was transported to a veterinary hospital where he'll remain under observation for any additional complications.
Officials are looking into the cause of the blaze.