California father watches family die in fiery crash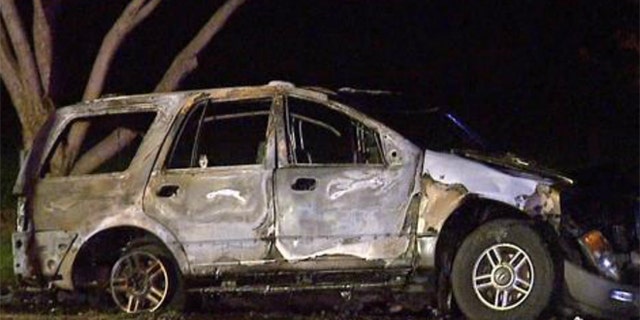 FRESNO, Calif. – A central California man helplessly watched his wife and four young children perish in a fiery crash after trying unsuccessfully to rescue his family from the burning vehicle, authorities said Sunday.
The man was driving behind his family Saturday night when the driver of a minivan ran a stop sign at a Fresno County intersection and struck his wife and children in their Ford Expedition, California Highway Patrol Officer Axel Reyes said.
The SUV was thrown to the front lawn of a home and burst into flames, trapping inside the 29-year-old mother and her children, boys ages 1 and 3 and girls ages 6 and 11.
The father told officers he was driving about a quarter-mile behind his family and saw a flash of flames. The SUV was already on fire when he reached them. He tried to free his family from the vehicle, including breaking the windows, and suffered minor burns to his hands in the process, Reyes said.
CHP Capt. Dave Paris told KSEE-TV that the mother also tried to escape but didn't make it.
The minivan's driver, Juana Martinez Bejarano, 41, was being treated at a hospital for major injuries.
The CHP was investigating the crash, and has not announced an arrest.
Coroner's investigators haven't confirmed the identities of the burned bodies.
A witness said the minivan was traveling about 60 mph, or near the 55 mph limit of county roads in the area, Reyes said.
Speed is not considered a factor in the crash; neither are drugs and alcohol, he said.
"You almost could not have timed it any better, the two front corners" of the two vehicles struck at the worst angle — right near the engine blocks — likely leading to the fire, Reyes said.
Investigators were looking at whether Bejarano was on medication at the time of the accident, Reyes said. Her medical history indicates that may be a possibility, he said.
Fresno County Coroner Dr. David Hadden said investigators were conducting autopsies Sunday morning. The couple had been headed to pick up another child, which is why they were in two cars, Hadden said. It's unclear whether the child was their own or a relative.
The crash was a tragedy for the Fresno County community, where it's impossible to not routinely bump into people one knows, Hadden said. Everyone involved in the accident was from Riverdale in Fresno County, which is just north of where the crash occurred.
KSEE reported the young family had just left a birthday party.
Distraught family members gathered along with the father at the crash site Saturday evening, Reyes said.