California family found living in box for 4 years, officials say
A California couple from Joshua Tree was arrested Wednesday after deputies discovered that the couple, along with their three children, had been living inside of a box for four years.
Mona Kirk, 51, and Daniel Panico, 73, were taken into custody after deputies with the San Bernardino Sheriff's Department found they, along with three underage children, were living inside of a "large rectangular box made of plywood," a press release stated.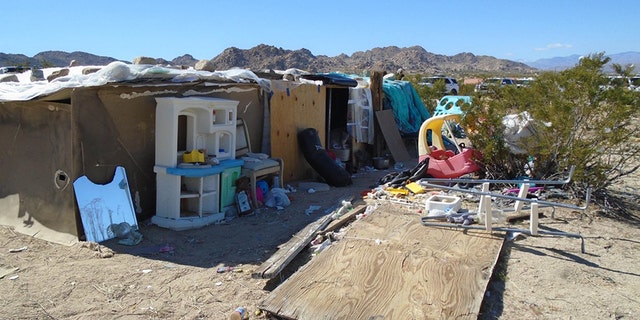 The box, according to the department, had no electricity or running water and was stationed on the same property as a trailer that appeared to be abandoned.
"Several large holes and mounds of trash and human feces were located throughout the property," officials said, adding that roughly "30-40 cats were located inside the trailer and roaming freely."
The deputies determined the children — ages 11, 13 and 14 — didn't have enough food and were living in an "unsuitable and unsafe environment."
An investigation found the family was living inside the box, which officials said was approximately 20 feet long, 4 feet high and 10 feet wide, for around four years.
Kirk and Panico were booked into the Morongo Basin Jail on suspicion of willful cruelty to children. They were being held in lieu of $100,000 bail.