California county files manslaughter charge in commuter train crash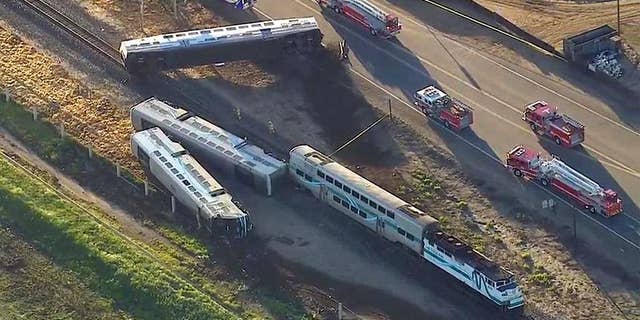 NEWYou can now listen to Fox News articles!
The Ventura County District Attorney in California on Monday filed a misdemeanor charge of vehicular manslaughter against a pickup truck driver who crashed into and derailed a commuter train there last year.
The charge, announced by Gregory Totten on Monday, stems from the Feb. 24 accident that resulted in the death of the train engineer, 62-year-old Glenn William Steele and 34 others injured in the crash in Oxnard, California. The filing came two days before the statute of limitations for such a charge.
Jose Alejandro Sanchez-Ramirez, 54, of Yuma, Arizona, was initially jailed by investigators but was released. Police found the disoriented driver of the demolished Ford F-450 pickup 1.6 miles from the crossing 45 minutes after the crash. His attorney didn't immediately respond to phone, text and email messages from The Associated Press for comment.
But attorney Ron Bamieh told reporters last year that his client accidentally turned onto the tracks and made repeated attempts to get the vehicle off the rails, then ran for his life as the train approached.
The announcement notes that he "did not notify authorities of his predicament prior to the collision and derailment."
Bamieh has said Sanchez-Ramirez, who doesn't speak English well, tried to get help from a passer-by, attempted to call his employer, and eventually reached his son to help him speak with police.
The National Transportation Safety Board said Sanchez-Ramirez turned right 55 feet prematurely onto train tracks in what it termed a "mistake" — getting caught there — during the dark early morning hours.
The investigation took nearly a year to complete and was submitted for review Feb. 10. Sanchez-Ramirez is scheduled to be arraigned March 23 in Ventura County.
Oxnard Police Assistant Chief Jason Benites said the filing is "serious" and indicates that there's "some degree of contributory negligence" that caused Steele to be killed.
If found guilty, Sanchez-Ramirez faces up to a year in jail.