California bus crash leaves approximately 40 people hurt
As many as 40 people were hurt Sunday after a bus crashed on California's 405 freeway in San Fernando Valley, fire officials said.
Of those injured, 25 were rushed to a hospital by the Los Angeles Fire Department. Five of those — three women and two men, all between the ages of 30 to 88 — were said to be in serious condition.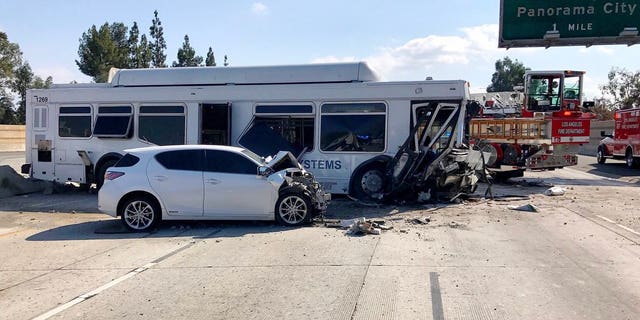 The bus rammed into several vehicles and crashed through the median of the highway shortly after 1 p.m., Fox 11 reported. The crash shut down the freeway's southbound lanes, backing up traffic for miles. It was not immediately clear how long the closures would last.
Three people included in the "patient" count "did not have serious injuries," but were considered patients due to the severity of the crash.
The bus's front end was crumpled, and emergency window exits were popped open. An SUV next to it had extensive front-end damage.
It was not immediately clear what caused the crash.
The Associated Press contributed to this report.