25 bodies found after California scuba diving boat fire, Coast Guard says
At least 25 people were confirmed dead and nine more remained missing after a boat carrying scuba divers went up in flames while anchored off a Southern California island Monday, officials said.
The U.S. Coast Guard suspended its search efforts to locate any possible survivors who were aboard the Conception as of 9:40 a.m. local time "pending further developments," Coast Guard Capt. Monica Rochester said at a news conference on Tuesday.
Rescuers were searching earlier in the day for "any survivors or any signs of life" near the vessel located roughly 90 miles northwest of Los Angeles off Santa Cruz Island, Coast Guard Lt. Cmdr Matthew Kroll told "Fox & Friends."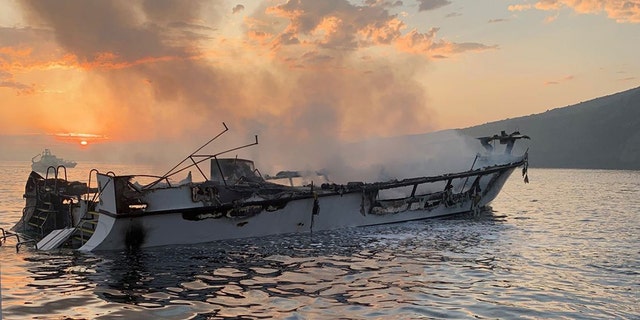 Kroll said when investigators arrived, the boat "was already entirely engulfed with flames," but added five crew members aboard the ship were quickly rescued.
DIVING COMPANY OWNER REPORTEDLY MISSING AFTER SOUTHERN CALIFORNIA BOAT FIRE
Authorities "continued to search all of yesterday with no signs of life for survivors," he explained.
Kroll described the boat fire as "a tragic story all around."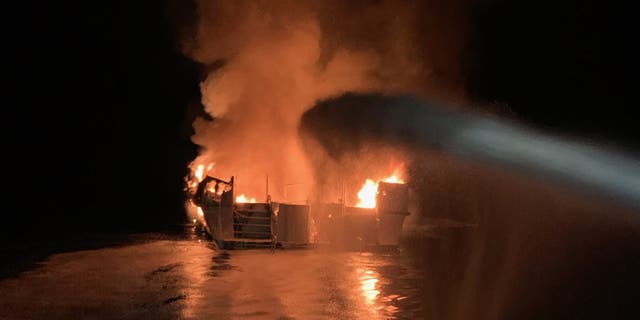 Rescuers initially recovered four bodies from the water where the ship was anchored.
Rochester explained during Tuesday's press conference that a total of 20 bodies have been recovered, while other four to six bodies that have been spotted by divers but have yet to be retrieved.
In the audio of a distress call made from the vessel it appeared as though those on the vessel were locked inside. However, Rochester said that "there are no locked doors" aboard the Conception. Kroll previously said such information – "where and which doors were hatched and were locked, and which ones were not" – was not immediately clear.
"A lot of boats have water-tight doors just for overall stability and security of the vessel so that if the doors are open the boat becomes less stable. So a lot of times there are what we call watertight doors," Kroll said during his "Fox & Friends" appearance, noting that determining whether people were locked inside the burning ship will be included in authorities' investigation.
Santa Barbara County Sheriff Bill Brown said the vessel was in a remote location with limited firefighting capabilities, passengers were sleeping below deck in the middle of the night and there was a quick-moving fire.
CLICK HERE TO GET THE FOX NEWS APP
The Conception was chartered by Worldwide Diving Adventures, which says on its website that it has been taking divers on such expeditions since the 1970s. Records of inspections of the ship, conducted in February and in August 2018, showed officials found no defects regarding the vessel. Earlier inspections, however, found some safety violations related to fire safety.
A 2016 inspection resulted in owners replacing the heat detector in the galley and one in 2014 cited a leaky fire hose. The records, obtained by The Associated Press, show all safety violations from the last five years were quickly addressed by the boat's owners.
Fox News' Lee Ross and The Associated Press contributed to this report.