California beaches reopen after raw sewage spill, investigation for cause ensues: report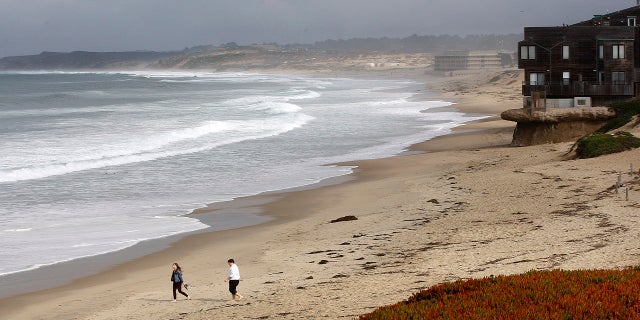 Eight beaches on California's Central Coast reopened this week after nearly 5 million gallons of raw sewage spilled into the Pacific, while an investigation has opened to find the cause, officials said Tuesday.
Lab results Monday from samples taken from the beaches south of San Francisco showed a safe contaminant level, officials said.
Paul Sciuto, Monterey One Water general manager, said 4.9 million gallons of sewage water spilled into the ocean on Friday night after a filter at the water treatment plant was clogged and the computer system failed to sound an alarm.
"A number of alarms did not get to the operator because of a computer communications' failure, but we still don't know what caused it," he said.
The untreated wastewater from area toilets, showers and washing machines flowed into Monterey Bay for more than eight hours until early Saturday morning, the Mercury News of San Jose reported.
Contact with contaminated water may cause gastroenteritis and other water-borne illnesses, the report said.
Sciuto told the newspaper that the consulting firm Pinnacle ART began an investigation Monday to determine the root cause of the spill.
He said the goal is to take a "hard look" at the incident. He expects at least a preliminary report by the end of the week, the report said.
The plant had dumped sewage into the ocean through an outfall discharge pipe, which extends into the ocean 2.5 miles at a depth of 130 feet.
The beaches -- with silvery sands, rocky outcrops, and beautiful vistas -- are popular with surfers, day visitors, dog walkers and picnickers, prompting evironmental health officials to close the beaches as a precaution.
Shawn Johnson, director of veterinary science at the Marine Mammal Center in Sausalito, told KSBW that young mammals were at the greatest risk from the raw sewage, but harbor seals won't give birth in the area until May. The area also is home to sea otters, the report said.
"We're keeping an eye out for any marine mammals that might be affected by this spill, and at this point, we haven't recovered or rescued any," he said.
Karen Smith, Monterey County Health Department spokeswoman, said people are advised to stay away from ocean water and the beaches at least through Friday in case of runoff brought to the ocean by rain.
The Associated Press contributed to this report.