California bar patron saves dozens of people during deadly shooting
A bar patron saved dozens of people in a California establishment Wednesday night when a gunman unleashed a spray of bullets on a packed crowd of mostly college students during a weekly "country night."
Matt Wennerstrom told KABC-TV in Los Angeles he was inside Borderline Bar & Grill in Thousand Oaks, Calif., when he heard gunshots. Police said Ian David Long, armed with a Glock 21 .45-caliber handgun with an illegal extended magazine, opened fire inside the large venue around 11:20 p.m.
"All I did was grab as many people as I could and pull them underneath the table until I heard a break in the shots, and then we got people out of there, as much as we could," Wennerstrom told the news station about the moment shots rang out. "We probably pushed 30 or 35 people through that window."
At least 12 people, including Ventura County Sheriff's Sgt. Ron Helus, were killed when Long, a 28-year-old former Marine, opened fire inside the venue. Authorities believed Long then turned the gun on himself.
Teylor Whittler told "Fox & Friends" she was at the country bar celebrating a friend's 21st birthday when the shooting occurred. She recalled hearing about a 5-second break when people made a dash for the back door.
"We all just kind of froze for a split second and then everyone booked it and dove to the floor. After the first round it was quiet for about five seconds, and then some guys who were next to me on the floor got up and started sprinting toward the back door and yelled at everyone, 'Get up! Run! He's coming!'" Whittler said. "It was like 50 people trying to get up and run out the back door all at once."
Whittler said during her escape she was trampled on and hit in the head with a barstool that was being thrown at a window by another person trying to get out.
"I was thinking I would just go under a table until a man came up from behind me, grabbed me up by the waist and pulled me up and told me, 'Run! Get out! Let's go!'" she added.
The Borderline, which opened in the 1980s, calls itself "Ventura County's largest country dance hall and live music venue" with 2,500 square feet of wide-open dance floor, according to its website.
The site adds: "Borderline has provided a haven for country line dancing folks of all ages."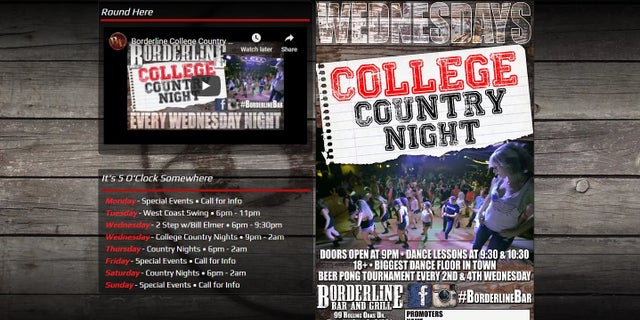 The majority of the people inside the bar are believed to have been college students, authorities said. California Lutheran University, private Christian school Pepperdine University and California State University Channel Islands confirmed several of their students were at the country music event.
The Associated Press contributed to this report.