Businesses boosted durable-goods orders in March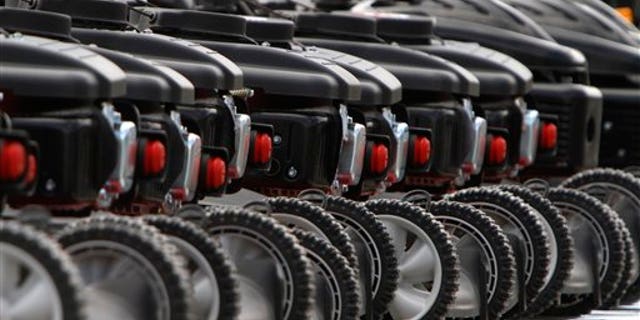 WASHINGTON – Businesses increased their orders for heavy machinery, computers, autos and steel in March, boosting demand for long-lasting manufactured goods for a third straight month.
Orders for durable goods rose 2.5 percent in March, the Commerce Department said Wednesday. That's up from a revised 0.7 percent increase the previous month.
A key category considered a proxy for business investment rose 3.7 percent in March, rebounding after a slight gain in February and a big decline in January.
Orders for durable goods totaled $208.4 billion in March, 29.8 percent above the recession low hit in March 2009. Durable goods are products that are expected to last at least three years.
Manufacturing has been one of the strongest sectors of the economy since the recession ended in June 2009. Factory growth is being fueled by rising domestic demand and a boom in exports. A weaker dollar has made U.S. goods cheaper overseas.
Businesses are also benefiting from a one-year tax break designed to spur investment in capital equipment.
"March's U.S. durables goods figures suggest that industry is still by far the best performing part of the economy," said Paul Dales, an economist with Capital Economics.
However, Dales said overall business investment in equipment and software for the January-March quarter was muted. That's one reason why he expects overall economic growth for the quarter to be just 1 percent. That's well below the 1.9 percent consensus forecast offered by economists surveyed by FactSet.
The government issues its first estimate for economic growth in the January-March quarter on Thursday.
Businesses did invest more in equipment in March. Machinery orders rose 4.2 percent and computer orders increased 10.4 percent. Orders were also up for steel and electrical equipment.
Demand for autos jumped 3.7 percent, the biggest increase in eight months. A brighter outlook for job growth will likely keep orders for autos rising, although concerns about high gasoline prices could slow that growth.
Commercial airlines increased their orders for planes 0.9 percent. The volatile category had shown much bigger gains in previous months.
Total orders for transportation equipment rose 5.9 percent. Excluding transportation, orders increased 1.3 percent following a 0.6 percent rise outside of transportation in February.