Burn pits near US military bases in Iraq keep smoldering, as health debate rages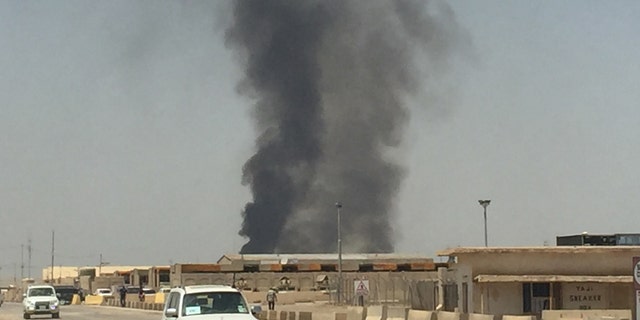 NEWYou can now listen to Fox News articles!
FOX NEWS EXCLUSIVE – Service members overseas for our nation's military forces continue to be exposed to toxic chemical clouds emanating from burn pits that are still being used near their bases.
In a series of images obtained exclusively by Fox News, A burn pit near Camp Taji, Iraq is seen spewing thick clouds of black smoke into the air on a near-daily basis. According to one soldier stationed at the base, the pits are set ablaze as many as five times a week. The images were taken on and around June 3.
"You know what it is once you smell it," said the U.S. Army soldier, who requested that his name be withheld for fear of reprisal from his superiors. "That thing smokes and smolders. It's got that acrid trash smell."
Thousands of veterans and former contractors have developed cancer, respiratory problems and blood disorders from their exposure to toxins from the flaming pits at U.S. military bases across Iraq and Afghanistan, and many have died. More than 140,000 active service members and retirees have put their names on a Burn Pit Registry created by the Veterans Administration.
The soldier sent pictures he personally snapped after seeing recent reporting by Fox News on the issue. In that previous report, a top-level environmental officer from the Pentagon recalled how he warned top military officials of the dangers of the burn pit method as early as 2005 during the height of the war in Iraq.
"The burning is still going on," the service member said to Fox News. "It's all around us. I don't want to go 15 years down the road and wind up sick."
The whistleblower tells Fox News that the pits have been burning ever since his unit arrived at Camp Taji at the tail end of 2017. They add that the pits are less than 400 yards from the barracks and that the smell from the thick black smoke permeates in the air over the base.
"You could tell that it's something you know you shouldn't be smelling," the soldier said.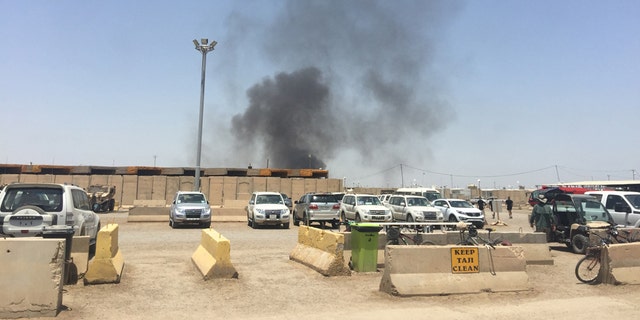 The pits that are seen in the pictures provided to Fox News are situated in a part of Camp Taji known as an "amber zone"—an area adjacent to U.S. Military operations where Iraqi National Forces operate. The soldier told Fox News that while the unit's part of the camp is not using burn pits for trash disposal, it's not exactly clear where their trash ends up.
"I've asked where [the trash] goes," they said. "No one wants to tell me."
As with many other overseas bases, the day-to-day operations are handled by private contractors. In the case of Camp Taji, operations are handled by a contracting company called SOS international [SOSi]. While incinerators are located on the U.S. portion of the base, they are never used, according to the soldier that spoke with Fox News.
Officials for U.S. Central Command told Fox News that the trash is collected by a contractor and taken off-site.
But where it is hauled off to is another question.
"The burning is still going on. It's all around us. I don't want to go fifteen years down the road and wind up sick."
Officials for SOSi, the contracting firm, have not responded to repeated requests for comment.
The haphazard method of getting rid of trash in open air burn pits generated numerous pollutants, including carbon monoxide and dioxin—the same chemical compound found in Agent Orange, the dangerous defoliant weaponized during the Vietnam War.
Another contractor, Kellogg, Brown, and Root, a former Halliburton Corp. subsidiary, has had numerous class-action lawsuits filed against it. More than 60 lawsuits allege that KBR's practice of dumping tires, batteries, medical waste and other materials into open burn pits created harmful smoke that caused neurological problems, cancers and other health issues to more than 800 service members.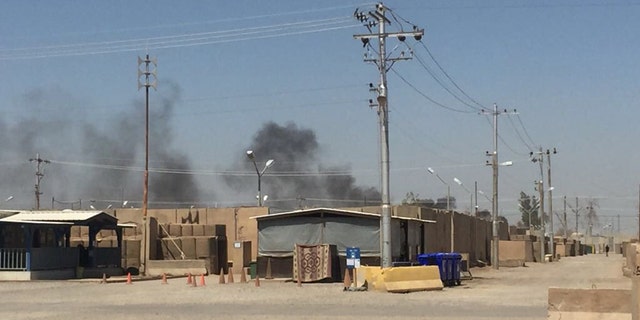 In June, a three-judge panel of the 4th Circuit Court of Appeals agreed with a federal judge in Maryland, who threw many of the lawsuits brought against KBR out. This month, plaintiffs from the cases filed an en banc review, in which a case is heard before all judges of a court as opposed to a smaller panel.
The whistleblower based in Taji said that the photos taken last month are just a few examples of the constant burning that occurs in the pits near his base on a weekly, and sometimes even daily basis, and that the smoke often reaches a choking point as it wafts through the air.
The soldier added that members of his unit often warn younger members about the dangers of exposure to the burn pits and that they should sign up for the registry as soon as they possibly can. Those younger cadets are often on their very first deployment, and are already at risk of developing what could become a long-term illness.
"There's no guessing at what we will experience down the road from all the pollution and toxins created in this smoke."