Brothers suspected of killing Washington couple spotted in Mexico, authorities say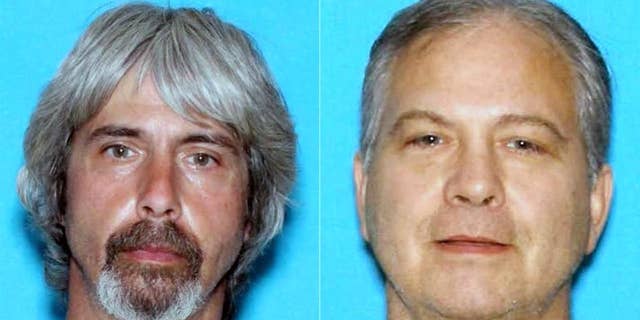 Two brothers wanted for murder in the presumed killing of a missing Washington state couple were repeatedly spotted in Mexico last month, according to court documents filed Monday.
Snohomish County sheriff's investigators say that sightings of 53-year-old John Blaine Reed and 49-year-old Tony Clyde Reed have been reported as recently as April 21.
The documents were first reported on by The Seattle Times. They do not give details of the reported sightings.
Records also show that investigators got a warrant for data for an iPhone used to make two unanswered calls on April 17 to a friend of the brothers in Phoenix. The calls were made to the friend, described in records as a former Arlington, Wash., resident, after the Reeds "fled his place" on their way to Mexico.

The friend, who hasn't been charged with any crimes, allegedly gave the brothers $500 cash and an Acura.
Last month investigators questioned a woman who lived with Tony Reed in Ellensburg, Wash., who couldn't find her iPhone. Investigators say that was the phone used by the brothers and that data from it could help lead them to the Reeds by tracking their movements.

"I also believe this is a phone number that Tony and John are still using today (April 28th, 2016), while avoiding apprehension and the records requested will assist law enforcement in identifying their current location," Snohomish County Sheriff's Detective Brad Walvatne wrote in court documents.

The Reed brothers are suspected of killing 46-year-old Monique Patenaude and 45-year-old Patrick Shunn, who were reported missing on April 12.
Their vehicles were found on April 14 after being dumped over an embankment. Detectives concluded the couple had been killed after they searched the vehicles and the home where John Reed recently lived.

Snohomish County Sheriff's spokeswoman Shari Ireton has said she did not have information about any issues between John Reed and Patenaude and Shunn. But she noted that others had said there was a property dispute.

Other records filed Monday include court orders freezing bank accounts of the brothers' parents, whom authorities say were given at least $96,000 in cashier's checks by John Reed.

Recently obtained warrants allow investigators to search wells and other areas of the missing couple's property and Reed's former land. Investigators have received approval to search another neighbor's property where detectives previously recovered a shotgun and all-terrain vehicle apparently left by John Reed.

Another warrant allows detectives to recover evidence from the ATV that authorities say the brothers may have used when disposing the couple's bodies.

No records have been filed showing if any evidence has been recovered as a result of the searches.
The Associated Press contributed to this report.
Click for more from The Seattle Times.