Brooklyn house fire leaves one FDNY firefighter dead, at least five others injured
The conditions of the injured were not immediately known
NEWYou can now listen to Fox News articles!
One FDNY firefighter was killed and at least five others were injured while battling a house fire in east Brooklyn on Sunday afternoon.
Timothy Klein, a 31-year-old member of Ladder Company 170, died after a collapse inside the building, according to the FDNY.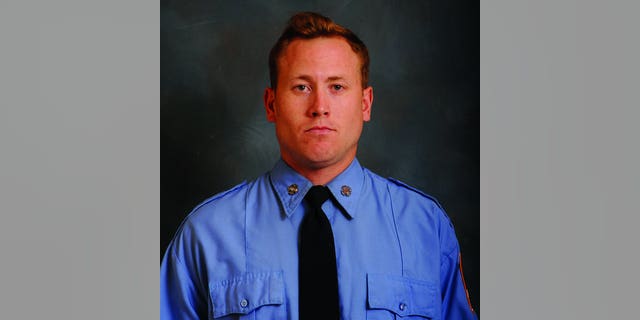 More than 130 firefighters were working to get control of the fire, which started in the "peaked roof private dwelling" of the home around 1:30 p.m. The fire was upgraded to a 2nd alarm at 2:00, then a 3rd alarm at 2:12.
Klein, a 6-year veteran of the FDNY, entered the building with three other firefighters when "suddenly the entire 2nd floor became engulfed in flames" and collapsed, a fire official said Sunday. The other firefighters inside the building were able to escape but Klein didn't make it out.
PHILADELPHIA FIRE LEAVES THREE CHILDREN AND ONE ADULT DEAD
New York City Mayor Eric Adams ordered all flags flown at half-staff at city buildings until Klein's interment.
"Timothy lost his life doing a job that we ask of him ever day," New York City Mayor Eric Adams said at Brookdale hospital. "We communicated with his fellow firefighters, and as can be expected, they're hurt and devastated by this incident."
Klein's father and some of his other family members were also FDNY firefighters, Adams said.
Klein gave the eulogy at a funeral in 2019 for Steven Pollard, another Ladder Company 170 firefighter who died that year in the line of duty.
At least five other firefighters suffered non-life-threatening injuries while battling the flames.
One civilian suffered injuries related to the fire but refused transport, while officials were still looking for one individual who was unaccounted for on Sunday evening.
CLICK HERE TO GET THE FOX NEWS APP
Klein is the latest firefighter to die in the line of duty after 33-year-old Jesse Gerhard died while battling a fire on February 16, 2022.
This is a developing story. Check back for updates.