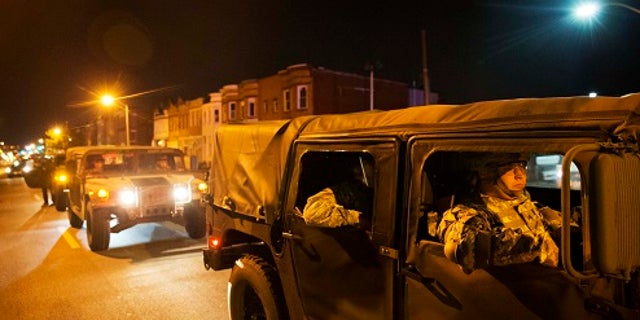 The streets of Baltimore were much calmer overnight as police and national guard troops enforced a 10pm curfew. Police initially used tear gas and pepper balls to disperse a crowd of just about 200 people who refused to disperse. 10 people were arrested – 2 for looting and 1 for disorderly conduct. We've got Fox team coverage of the unrest, and we'll try to get to some of the causes.
There were also sometimes ugly protests in Ferguson and Chicago. Garrett Tenney reporting.
The Japanese Prime Minister Shinzo Abe is addressing a joint meeting of Congress today at 11am as he continues his U.S. trip. He's likely to push for a U.S./Asia trade deal.
Hillary Clinton is the keynote speaker at an event at Columbia University this morning. We'll be looking for news from the event. Several media outlets reporting today that a charity affiliated with The Clinton Foundation didn't reveal the names of more than a thousand donors. That appears to violate the terms of a deal between the Foundation and the White House.
The Washington Post writes about the Clinton Foundation today, and about how the huge GOP field has focused its fire, at least so far, on bashing Hillary Clinton.
Nepal is digging out from that massive earthquake and aftershocks as government workers struggle to get aid to not only Kathmandu, but also remote villages some of which were destroyed. More than 5,000 are dead including four Americans.
We get first quarter GDP numbers today, and most analysts say we'll see growth of just 1% as a tough winter, port disputes and the strong U.S. dollar takes a toll on the economy. The good news is that most analysts believe the economy is bouncing back in Q2. The earnings parade continues today as well with reports from Fiat/Chrysler, MasterCard and Time Warner.
Twitter got hammered yesterday in trading as weaker-than-expected earnings were leaked in the media. The social media network has struggled against outsize expectations since it went public.
New polling from AP suggests Americans are evenly split when it comes to whether or not the Supreme Court should rule in favor of gay marriage. The highest court yesterday saw oral arguments in a case expected to rule finally one way or the other on the issue.