Brian Terry murder suspect extradited to the US from Mexico
A man suspected of killing Border Patrol Agent Brian Terry in 2010 was extradited to the U.S. from Mexico on Tuesday, officials said.
Heraclio Osorio-Arellanes, who was taken into custody in April 2017 and charged with first-degree murder, will face arraignment in Tucson, Arizona, on Wednesday, a statement from Attorney General Jeff Sessions and Southern District of California U.S. Attorney Adam Braverman said.
Terry was killed on Dec. 14, 2010 in a gunfight between Border Patrol agents and members of a cartel "rip crew" they came across, which patrolled the desert along the U.S.-Mexico border looking for drug dealers to rob.
TRUMP ADMINISTRATION TO TURN OVER DOCUMENTS RELATED TO OBAMA-ERA OPERATION FAST AND FURIOUS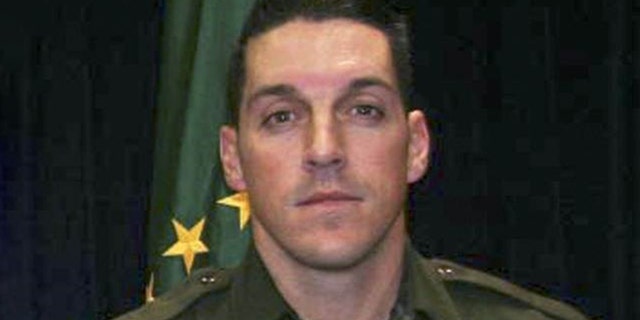 The agent's death exposed Operation Fast and Furious, a Bureau of Alcohol, Tobacco, Firearms and Explosives (ATF) operation in which the federal government allowed criminals to buy guns in Phoenix-area shops with the intention of tracking them once they made their way to Mexico. But the agency lost track of more than 1,400 of the 2,000 guns they allowed smugglers to buy. Two of those guns were found at the scene of Terry's killing.
In the statement, Sessions applauded Osorios-Arellanes' return to the U.S., saying he would "now face justice for this terrible crime."
"To anyone who would take the life of an American citizen, in particular an American law enforcement officer, this action sends a clear message: Working closely with our international partners, we will hunt you down, we will find you, and we will bring you to justice," Sessions said.
FAST AND FURIOUS SCANDAL: SUSPECTED TRIGGERMAN IN BORDER AGENT'S MURDER ARRESTED
Six other individuals were also hit with charges, in addition to Osorio-Arellanes. Of the six, three have pleaded guilty and two were tried in court and convicted. Another hasn't faced trial yet and is awaiting extradition to the U.S.
Fox News' William Lajeunesse and Laura Prabucki contributed to this report.