Branson duck boat operator was warned in 2017 of dangers, inspector says
BRANSON, Mo. – Mechanical inspector Steven Paul said Sunday he warned the company operating the now-capsized duck boat in Missouri about massive design flaws and dangerous safety issues almost a year before Thursday's tragic accident that killed 17 people and injured seven others.
"My first thought was I was thankful that me and my family weren't on the ducks," he told Fox News in a telephone interview. "My second thought was, 'Oh man, I probably inspected that boat.'"
Paul, who served in the U.S. Army for 6 years as a diesel mechanic before opening Test Drive Technologies in 2009, told Fox he was hired by Ripley Entertainment last year to inspect 24 duck boats. The Florida-based company had been interested in buying the businesses and wanted an assessment.
"My inspection was so they had the opportunity to know what they were buying before the sale was final," Paul said.
Paul said he sent the company a "2-to-3-page fleet inspection report" as well as 24 checklist reports and "as many as 20 photos for each duck" he inspected in August 2017. In the report, he cautioned that the boats' engines -and pumps that remove water from their hulls- might fail in bad weather. In rough conditions, water could get into the exhaust system, and then into the motor, cutting it off. With the motor off, its pump for removing water from the hull would not operate.
In Paul's interview with Fox, he added that the boats' canopies can turn into "death traps" because when the boat sinks, people cannot get out from underneath the canopy.
After filing his report last year, Paul said he came home and told his wife that the family "would not be riding the ducks" anymore.
A source with knowledge of the report but not authorized to speak publicly about it strongly pushed back on Paul's claims he warned the company that the boats were unsafe.
"There is no documentation and there were no warnings," the source said.
Ripleys Entertainment purchased Ride the Ducks in December.
Jim Pattison Jr., president of the company, said last week the boat "shouldn't have been in the water."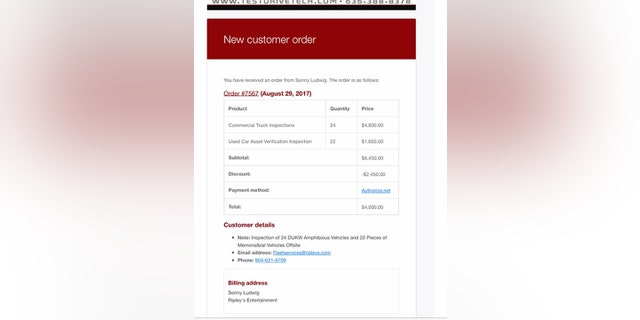 Fox News has heard a voicemail sent by a maintenance director to Paul acknowledging the report. Fox has also seen an invoice and payment receipt for the inspection of the duck boats last year. Paul claims he sent the company emails of his correspondence with the Missouri Department of Transportation regarding specific regulations of where the boats do not pass DOT standards.
The National Transportation Safety Board told Fox News on Sunday they do not comment on ongoing investigations.
The duck boat that capsized near the tourist town of Branson, Mo., on Thursday had 31 people on board when it sank in 40-foot waters. The amphibious vessel overturned during a fast-moving summer storm that produced near-hurricane gusts which turned ripples into massive waves.
Cellphone video from a witness showed the duck boat taking on water and struggling to move before sinking, making it one of the deadliest duck boat accidents in U.S. history.
The U.S. Coast Guard said the boat that sank was built in 1944 and had passed an inspection in February. But Paul said the boat would have been heavily modified to make it longer so that only part of it dates to World War II. He said it would still have the design flaw he identified in his report.
The accident Thursday evening on Table Rock Lake also is raising questions about whether storm warnings in the area went unheeded and whether any agency can keep boaters off the water when inclement weather approaches.
Witnesses have said the weather appeared calm before a storm suddenly whipped up strong waves and spray.
But nearly eight hours earlier, the National Weather Service had issued a severe thunderstorm watch for the western and central Missouri counties.
A severe thunderstorm warning that went out at 6:32 p.m. specifically mentioned Table Rock Lake. The first emergency calls over the accident occurred just after 7 p.m.
Meteorologist Elisa Raffa of KOLR-TV in Springfield said in a phone interview Saturday that her station was forecasting the threat of severe weather all morning.
"This storm didn't come out of nowhere," she said. "That is what pains me. I feel like we did everything, at least we tried to do everything, by the book as meteorologists and we still had this horrible tragedy on our hands."
Paul says he's perplexed by the decision to take people out in inclement weather.
"There has got to be a disconnect somewhere," he said. "They should have erred on the side of caution."
Speaking from her hospital bed, survivor Tia Coleman told reporters that the boat's captain told riders they would not need life jackets. When the vessel began to take on water, Coleman said "it was too late."
"I believe that a lot of people could have been spared," said Coleman, who lost 9 members of her family on the duck boat. "I lost all of my children. I lost my husband. I lost my mother-in-law and my father-in-law. I lost my uncle. I lost my sister-in-law ... And I love my nephew."
Late Sunday, the Coast Guard announced that salvage operations to retrieve the sunken boat would begin Monday morning.
The Associated Press contributed to this report.