Boys could be spiked from New York high school girls' volleyball team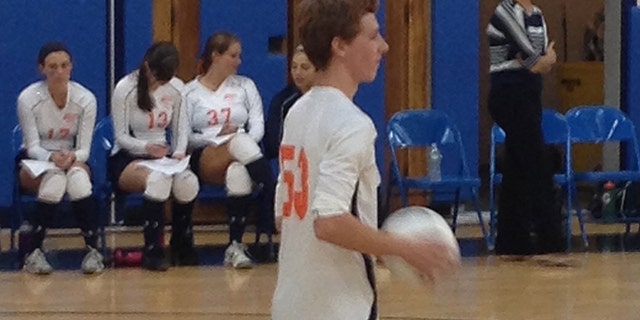 Two boys playing on a girls' volleyball team at a New York high school could see their playing time spiked when league officials consider modifying a rule that allows them to play with the fairer sex.
Seniors Andrew Lafortezza and Jason Elbaum both played for the co-ed volleyball club last season at Horace Greeley High School in Chappaqua. But due to budgetary constraints, the Quakers were unable to field a boys' team this year, prompting the teens to seek a spot on the girls' squad, which they earned after receiving approval from league officials in August.
But New York State Public High School Athletic Association Executive Director Robert Zayas told FoxNews.com that the issue will reconsidered by an ad hoc committee in early December.
"I'm very concerned with the fact that we have two boys playing on a girls' team," Zayas said. "I'm concerned there's a significant adverse effect on other teams."
[pullquote]
Due to intense discussion about the configuration amongst the league, Zayas said officials will now determine whether the mixed competition rule needs to be modified.
"We want to encourage participation, but we also want to make sure we're not doing it at the expense of other athletes," Zayas continued. "When you look at mixed competition, was that the intent of the rule?"
Peter Kuczma, athletic director at Greeley High School, said Elbaum, who played for the boys' volleyball team as a high school freshman in California, starts on the girls' team as a setter and receives more playing time than Lafortezza. Both teens had to pass a fitness test in which they were not deemed too physically dominant to play with teenage girls and ultimately won approval to play from the superintendent, said Kuczma, who downplayed the duo's overall effect on the court.
"There are advantages when you put boys on the court, but these kids are not intimidating," he said. "When Andrew sets a ball, he does it very nicely."
The primary issue, Kuczma said, is the altered perspective — and net height — when boys cross over to play with girls, whose net is set at 7 feet, one foot lower than their male counterparts.
"So right then and there, because you're playing at a lower net, it does give you an advantage," he said. "But today's female athlete is much bigger, faster and stronger than they were 20 years ago."
Asked how his expects the team to perform moving forward, Kuczma said: "To be candid, we're playing as good as can be expected at this point because we have an all-new coaching staff. We're rebuilding."
Kim Cleary, the boys' volleyball coach at Suffern High School, took issue with Kuczma's characterization that the boys do not dominate play. In 2007, she was an assistant coach on a girls' team that played against another team with a boy on its roster and the result wasn't favorable for Cleary.
"Having coached both boys and girls and being around this sport for 20 years, I can attest that it absolutely makes a difference," she told FoxNews.com. "Even if they're not hitting at the front, they're blocking at the front of the net. There's absolutely no reason Horace Greeley couldn't have formed a team and been part of our league. Those two boys are taking two spots from two girls."
Cleary continued: "You watch my boys hit and block, then watch girls do it and tell me if it's all the same."
Attempts to reach first-year Quakers coach Daniela Denis were unsuccessful, but she told The Journal News in August that she hoped the presence of Lafortezza and Elbaum wouldn't be too problematic.
"The team works really hard, and [the boys] work really hard so hopefully it will be OK," she said.
Michael Lafortezza, Andrew's father, told FoxNews.com that his son is having a "great experience" on the team thus far, but acknowledged the controversial decision to allow him to play alongside girls.
"There seems to be parity in the level of play," he said. "I can understand other viewpoints as well, but his focus all along has been to get a boys team in the future."
But Lafortezza insisted that his son, the well-liked president of his graduating class, did not give the Quakers girls' team an unfair advantage.
"I don't think so," Lafortezza said. "The coach has done a great job trying to balance their time with others and using them when appropriate; being very cognizant of the situation they're in. There's been very little tension on his team and little, if any, from opposing teams."