Boy, 7, handcuffed after allegedly attacking teacher at Miami school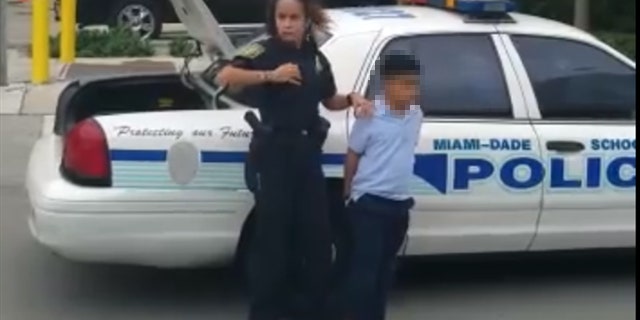 A 7-year-old boy was handcuffed last week following an alleged incident involving a teacher at his Miami, Fla., school.
The youngster was taken out of the cafeteria on Thursday for playing with his food, according to WSVN, and reportedly "attacked the teacher by repeatedly punching her on her back, in the hallway" as he was escorted from the lunch room.
"Once the teacher restrained the juvenile from attacking her, the juvenile continued to fight her with his fists and legs, causing both the teacher and the juvenile to fall to the ground," it claimed, and that he kept up the attack while down on the ground.
The teacher restrained the child, who "was able to calm down on his own," the report said.
CALIFORNIA TEACHER CAUGHT SLAMMING THE US MILITARY
He was held via the Florida Mental Health Act or Baker Act and put in a hospital for a psychiatric assessment before he was discharged, el Nuevo Herald reports.
The boy "began behaving erratically and hit a teacher," public schools spokeswoman Jackie Calzadilla told the newspaper. "Due to a great concern for the student and to ensure his safety and that of those around him, he was restricted according to the Baker Act and transported to the hospital to be evaluated."
Mother Mercy Alvarez told the paper that her son "does not have a mental disorder."
KINDERGARTNER SUSPENDED FOR 10 DAYS AFTER BRINGING MELATONIN PILL TO SCHOOL
The boys' parents think handcuffing went too far, WSVN reports.
"This action was warranted to prevent his erratic and violent behavior from bringing further harm to others or himself," Miami-Dade Schools Police Ian Moffett told the station in a statement. "The manner in which he was transported to the receiving facility was done in accordance with Standard Operating Procedures."